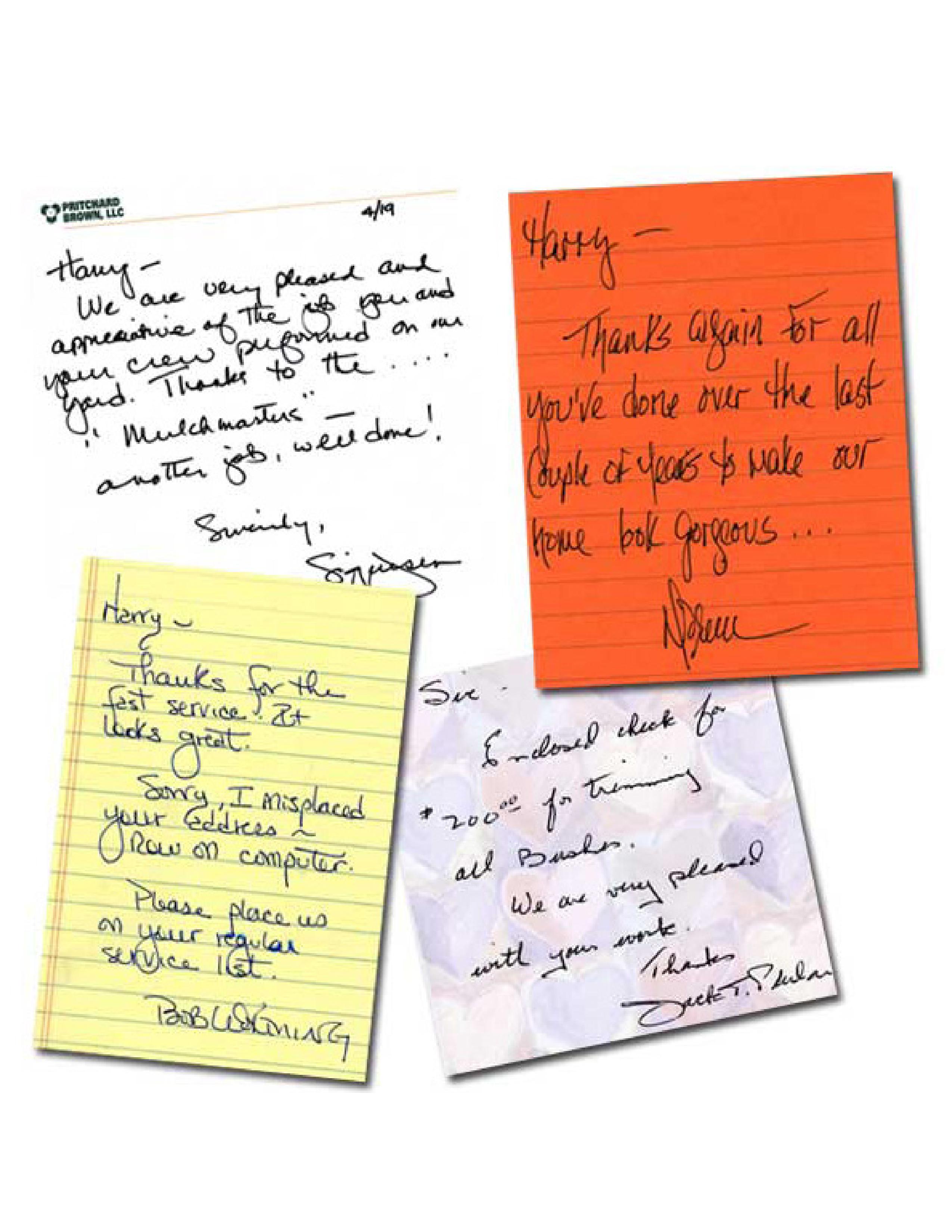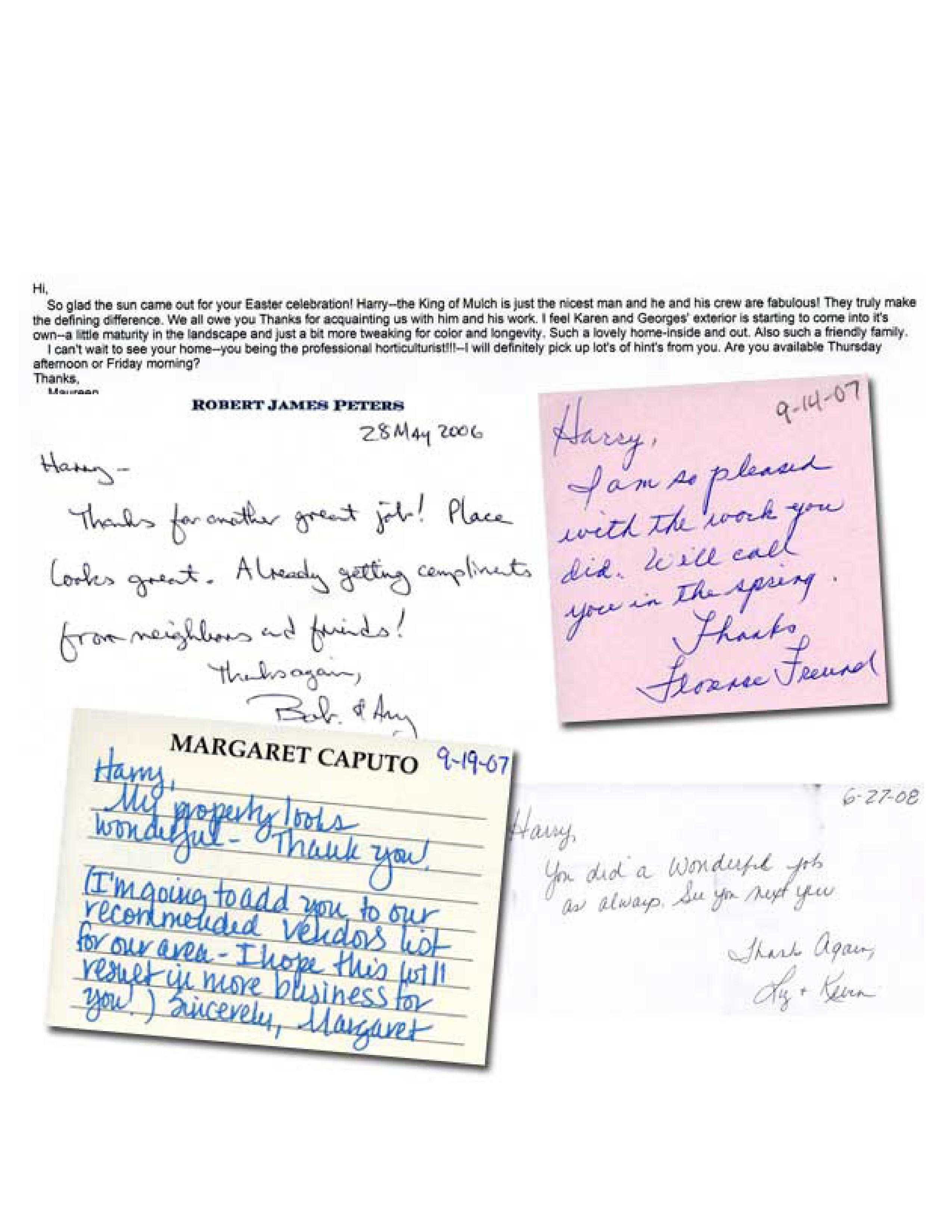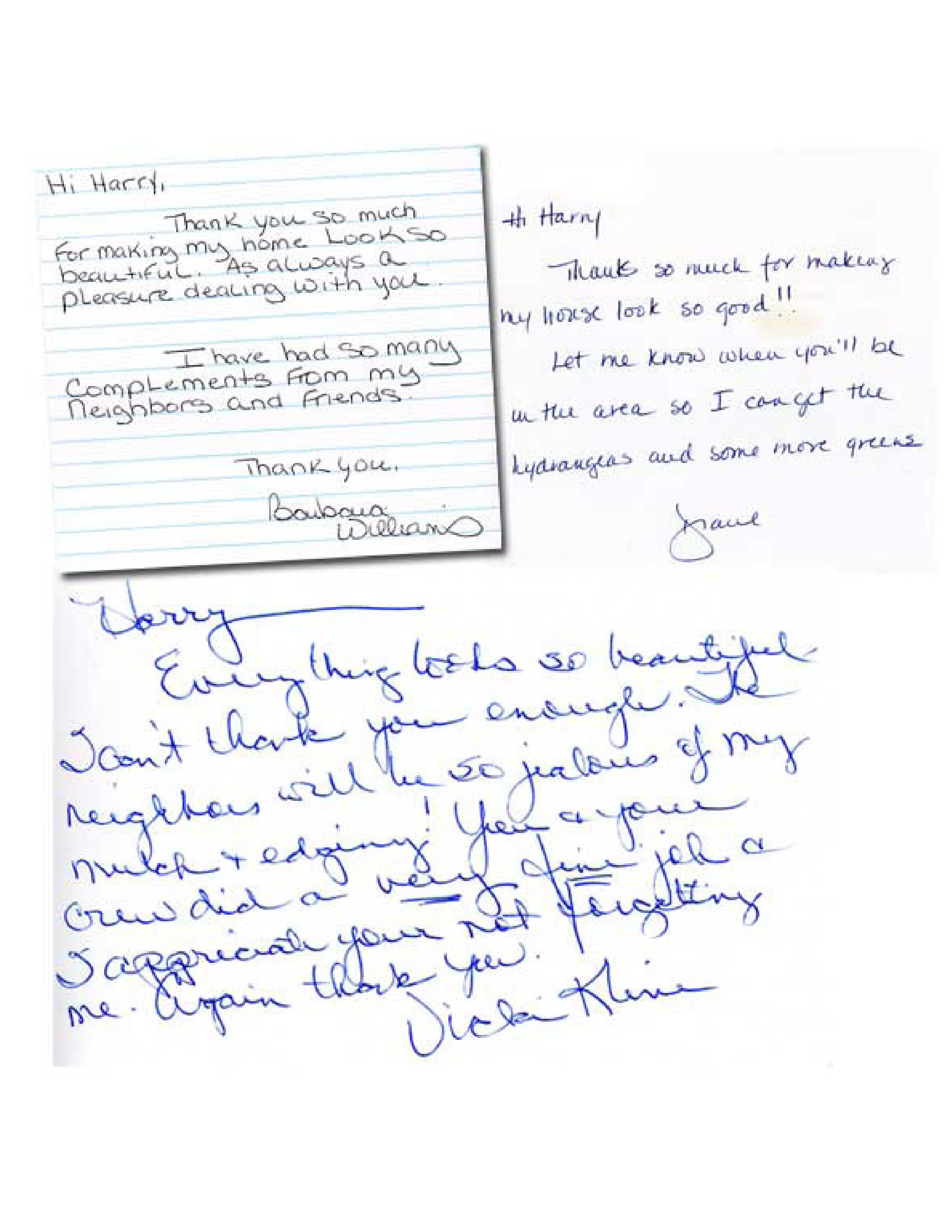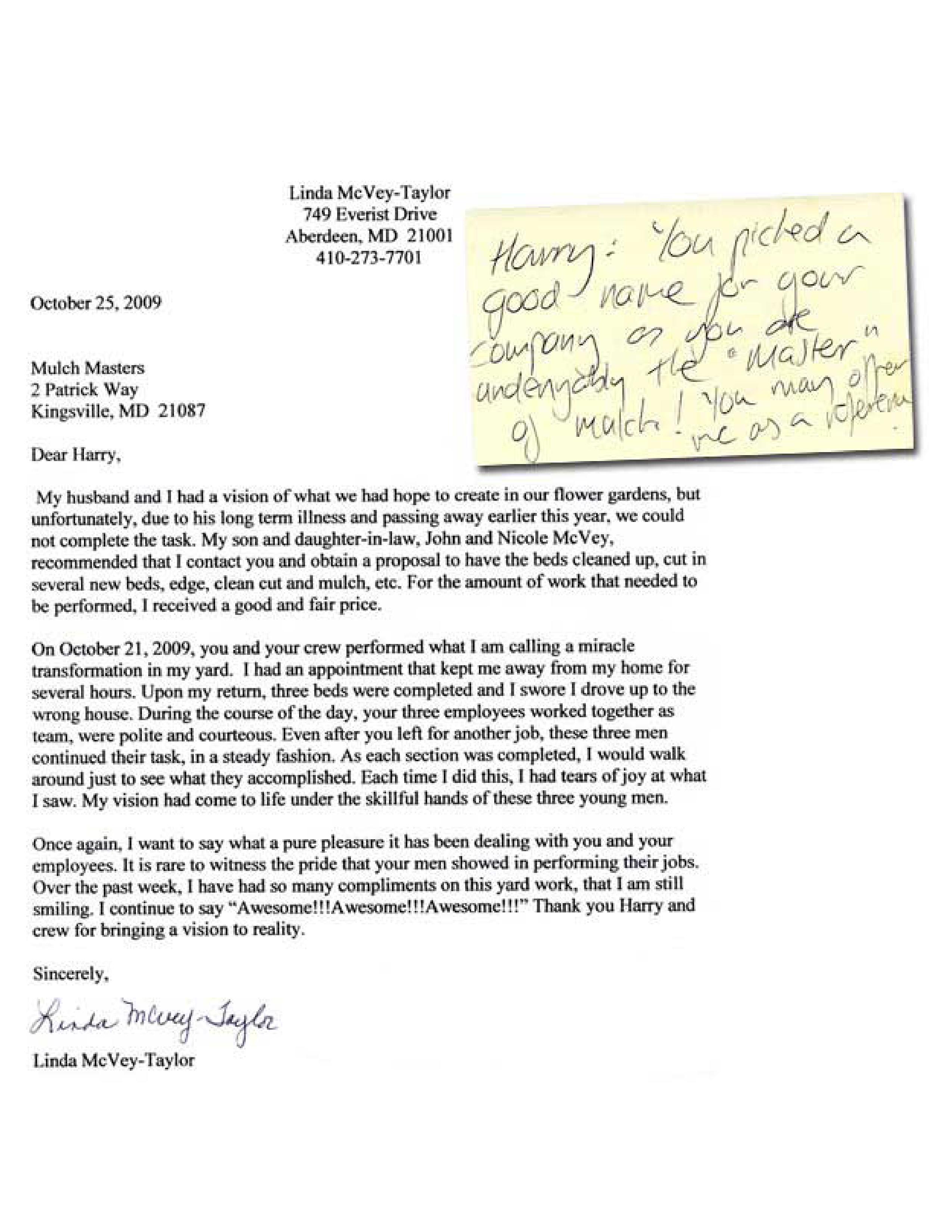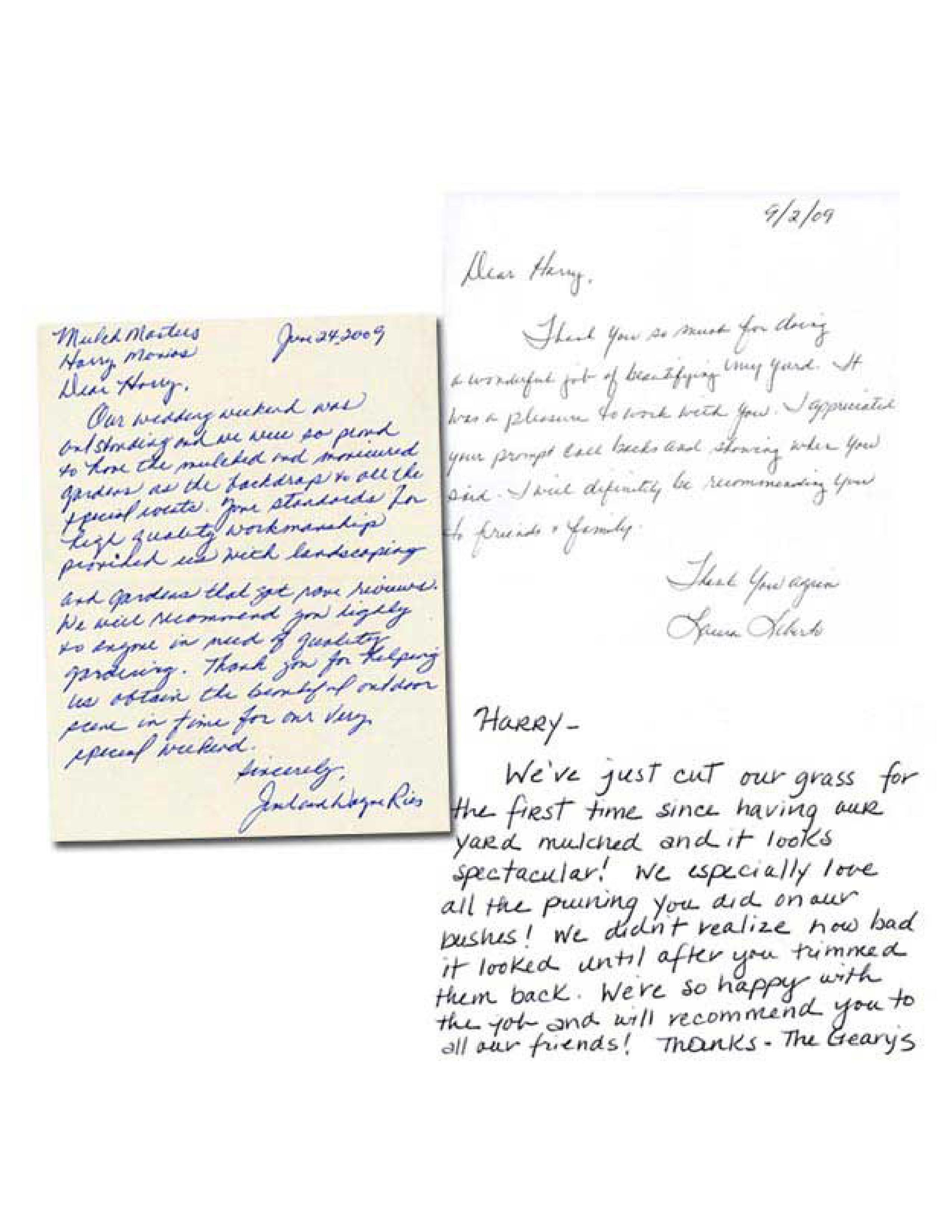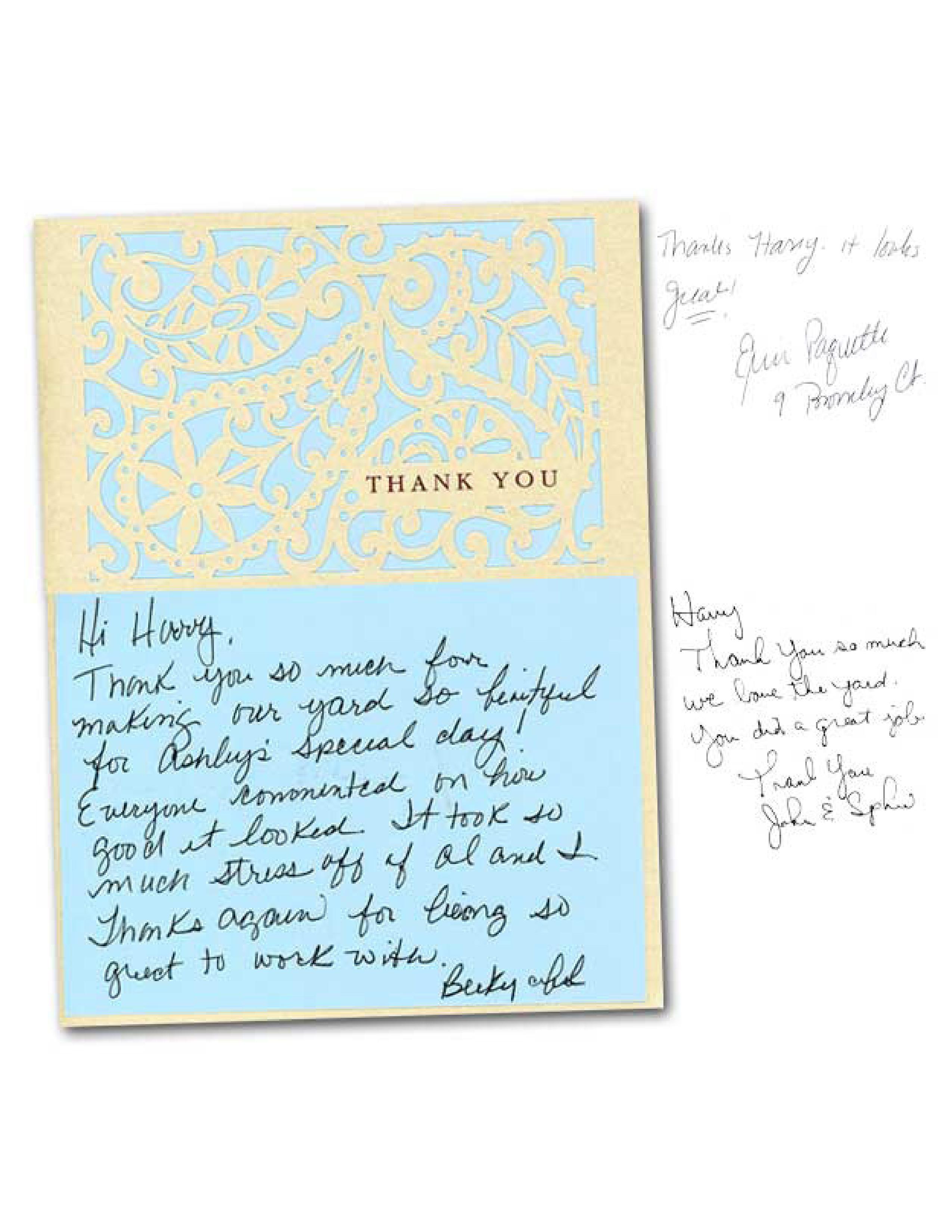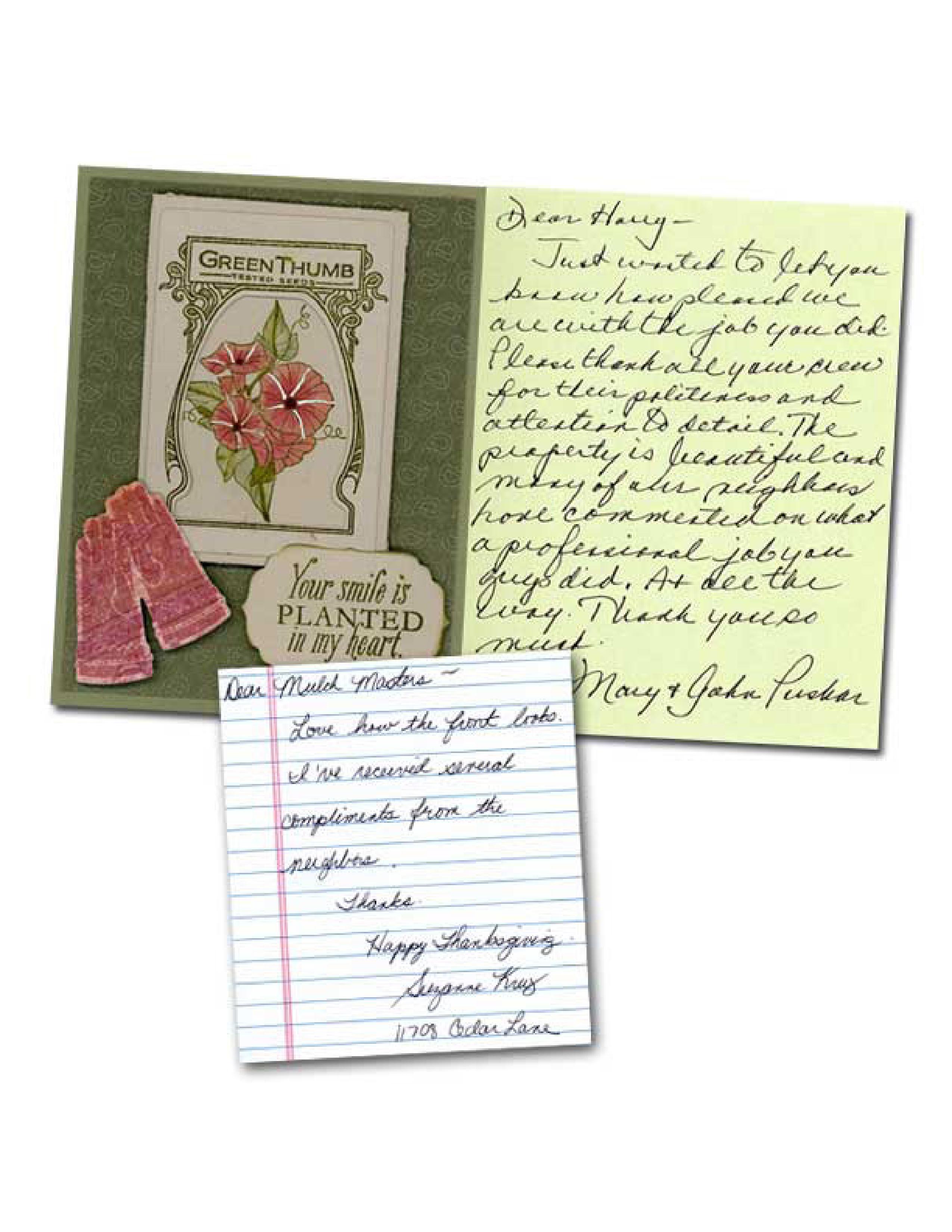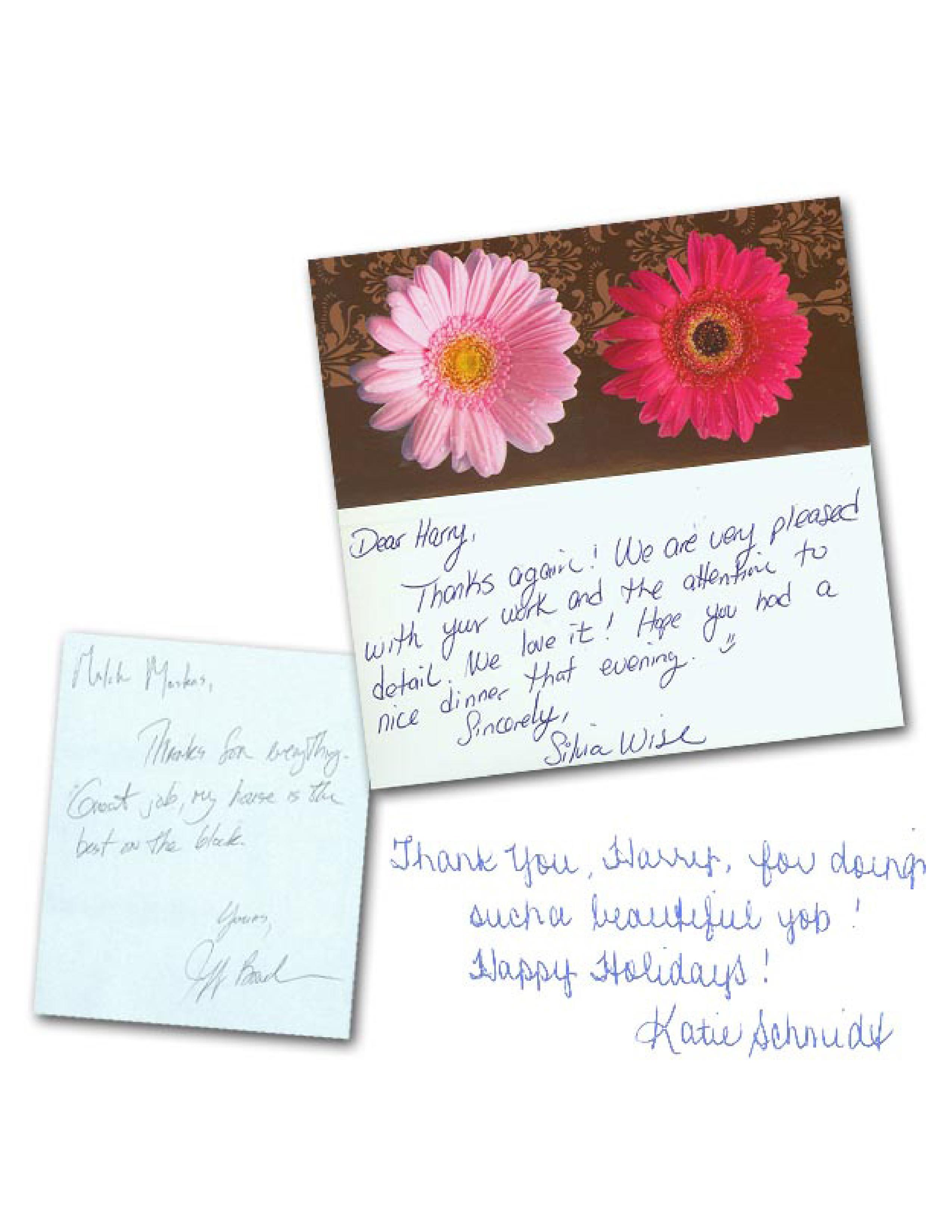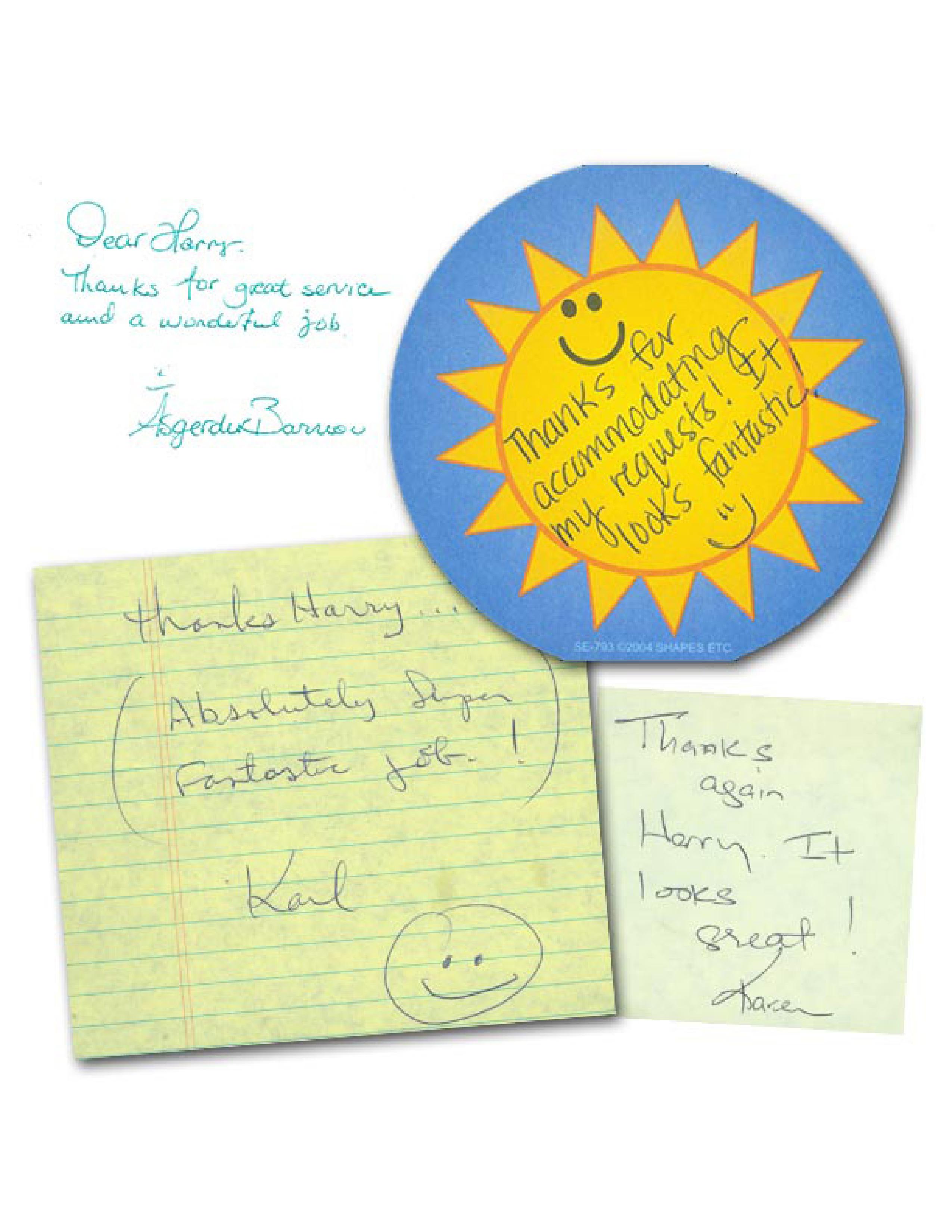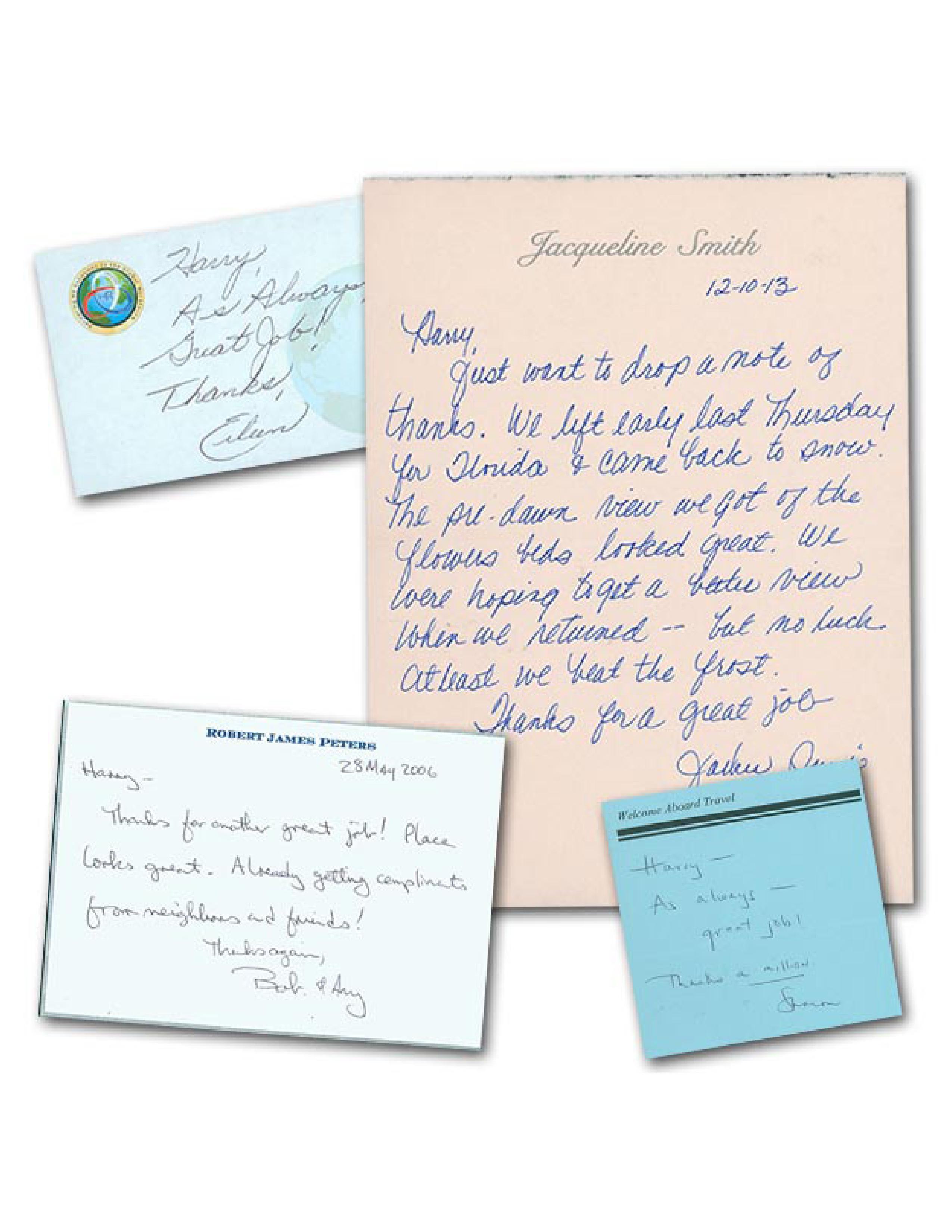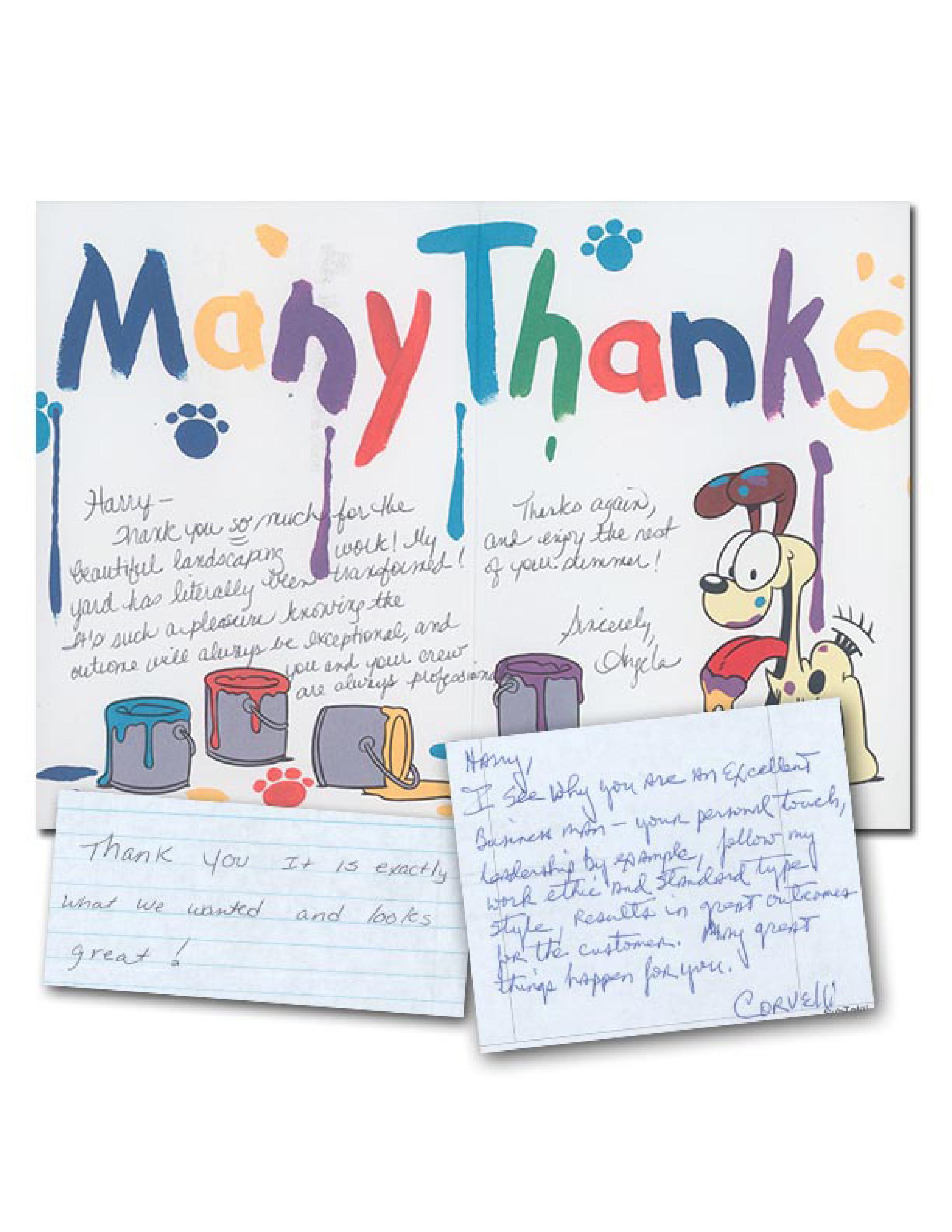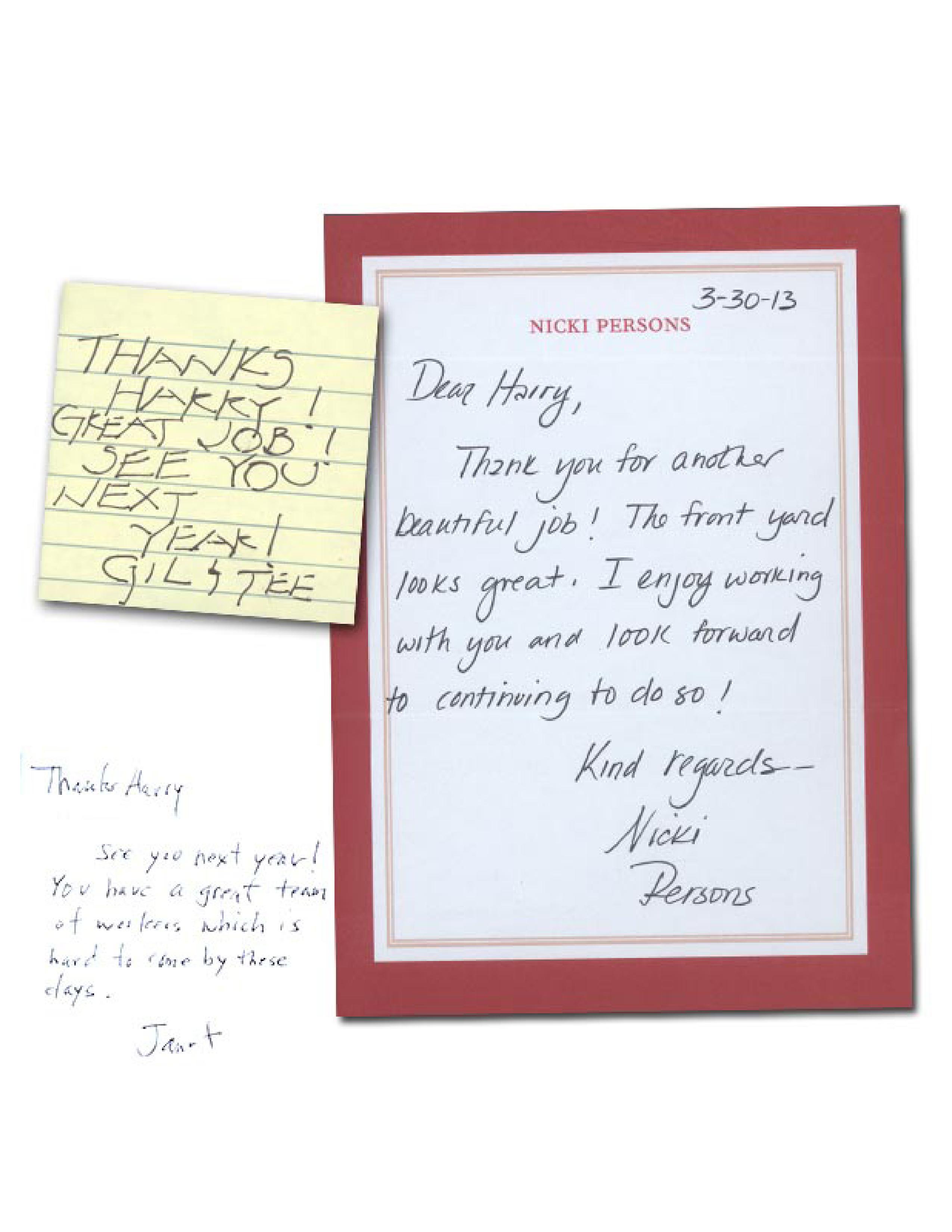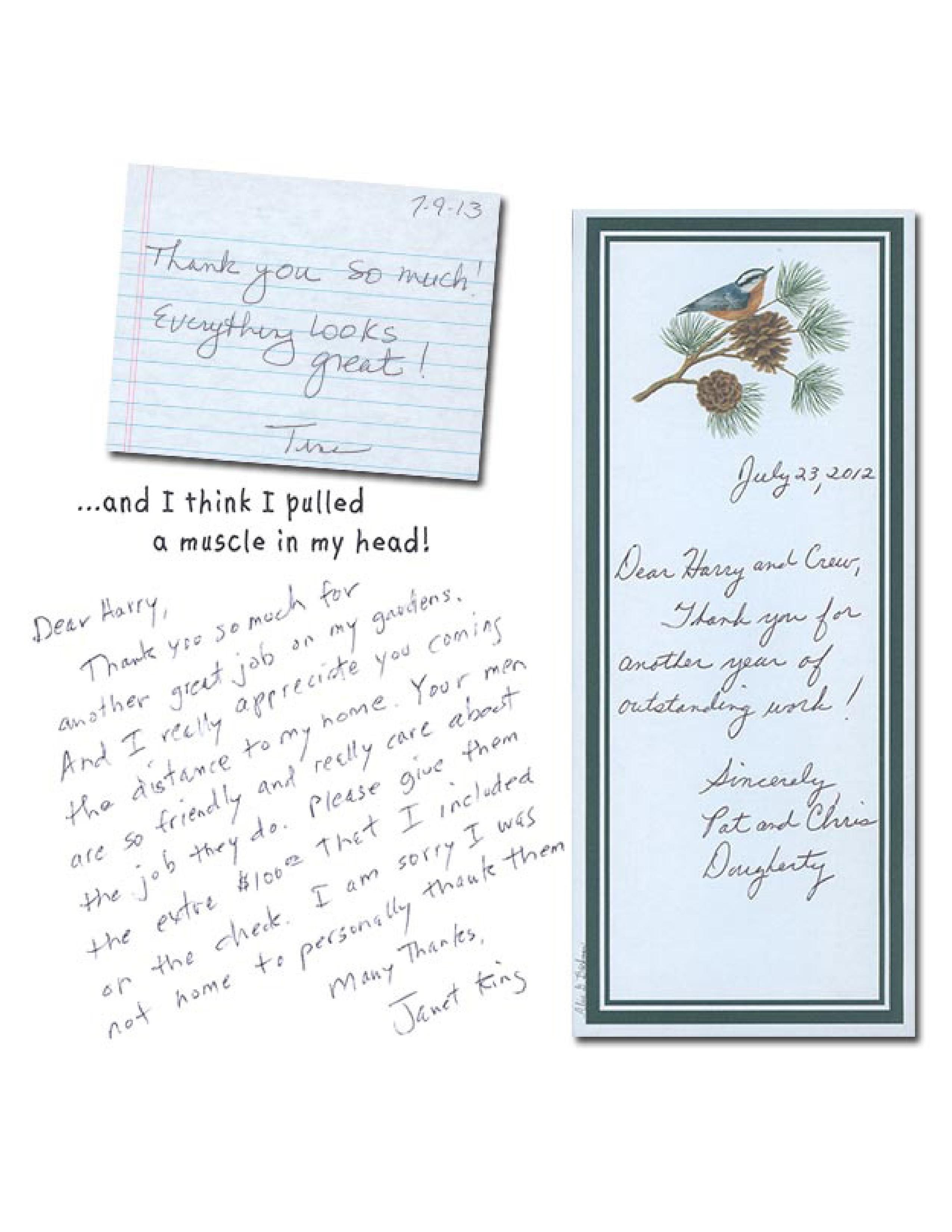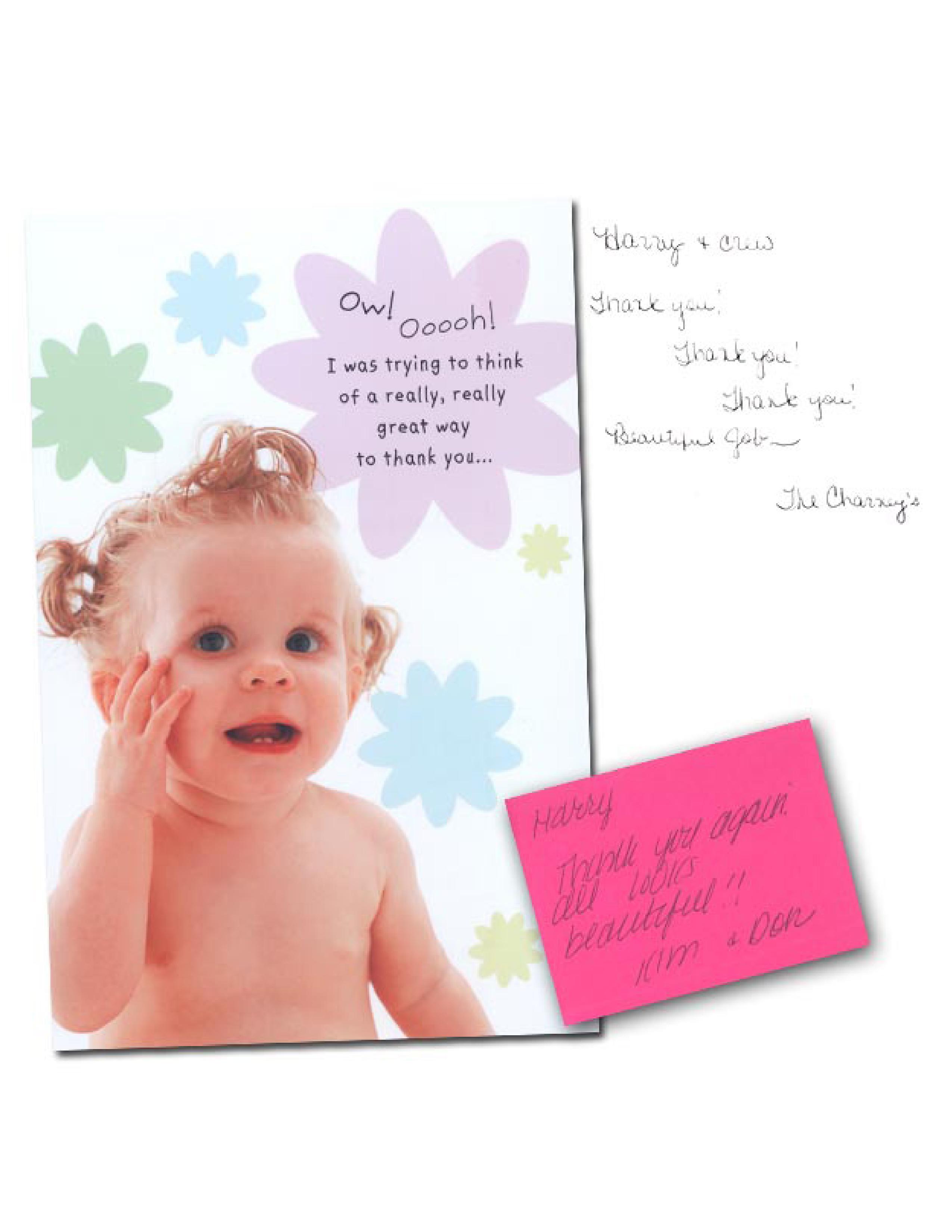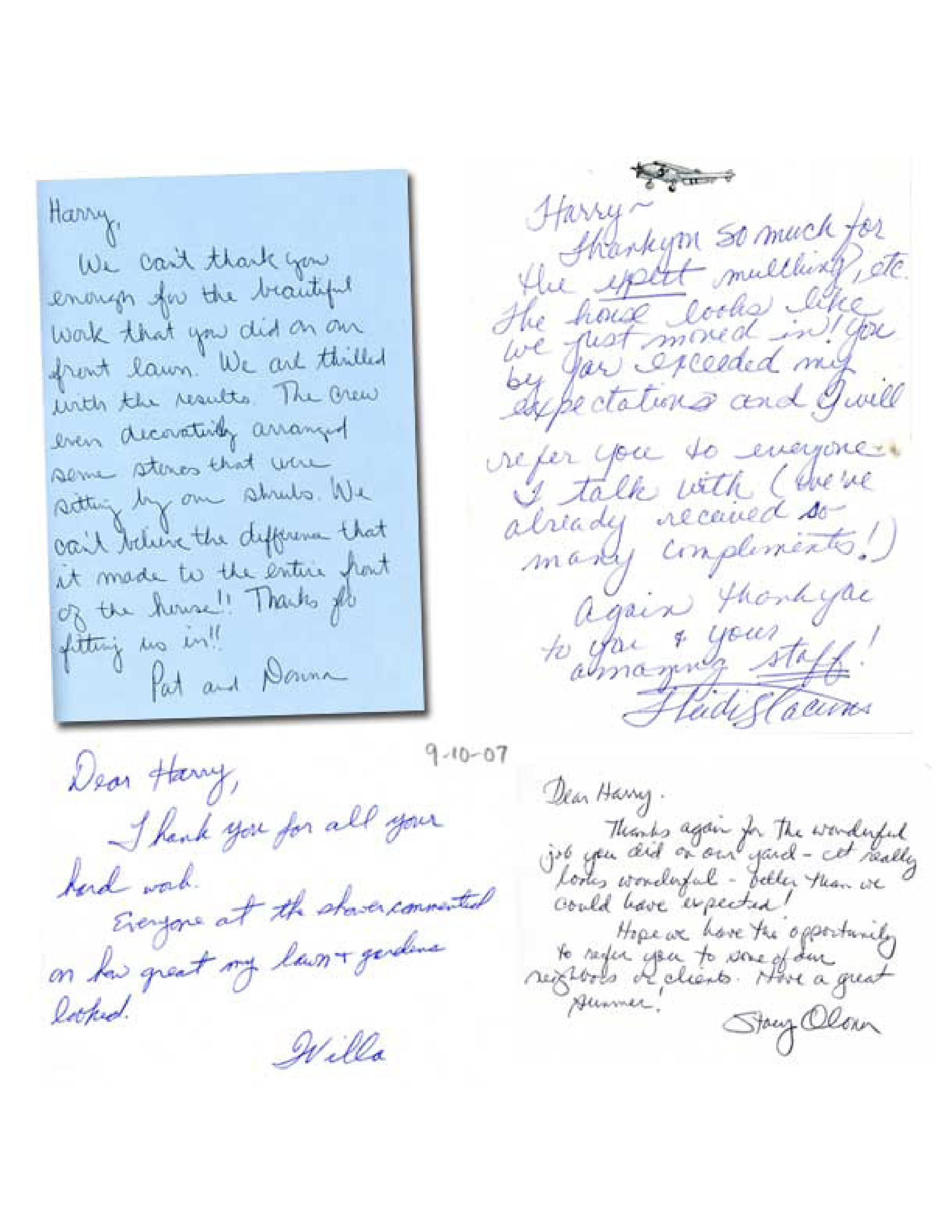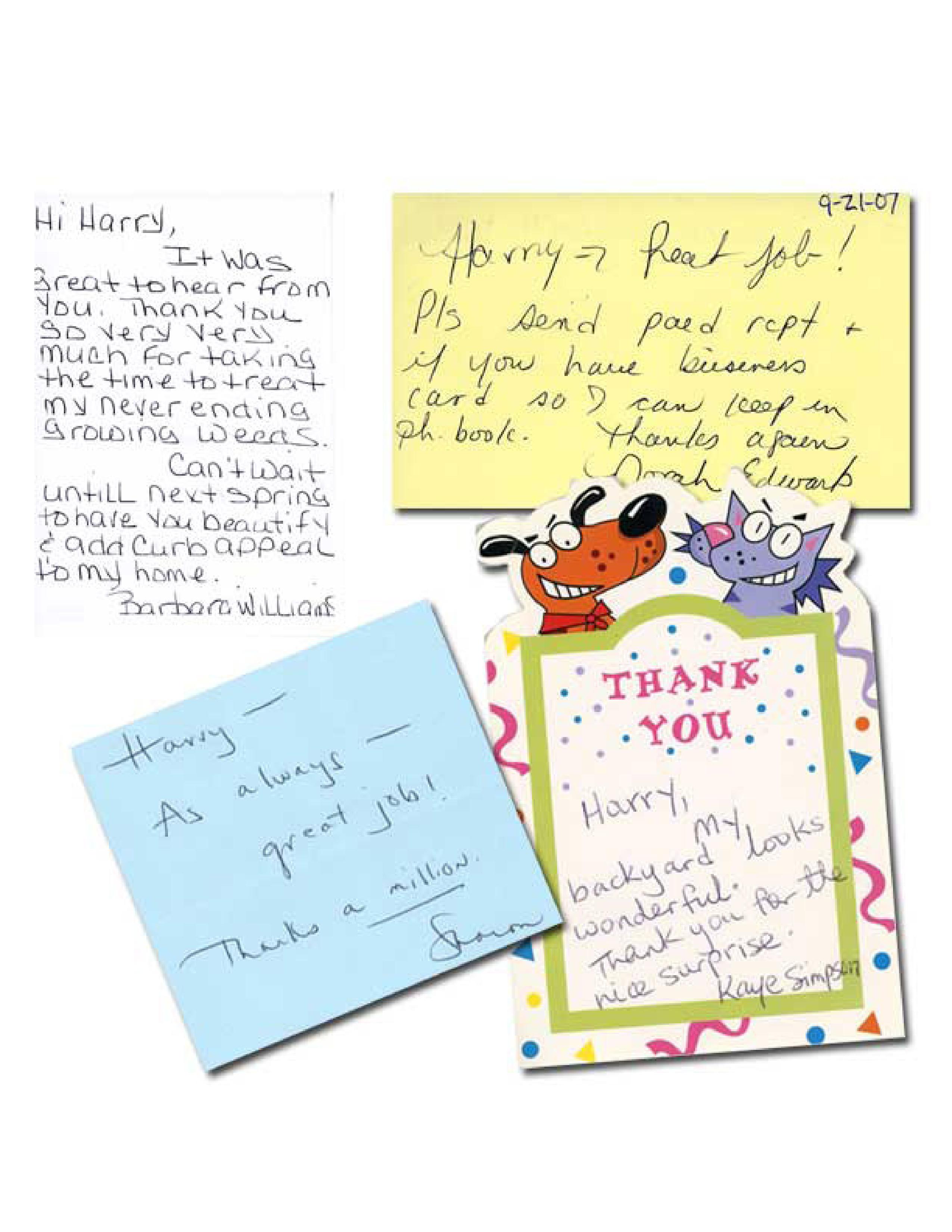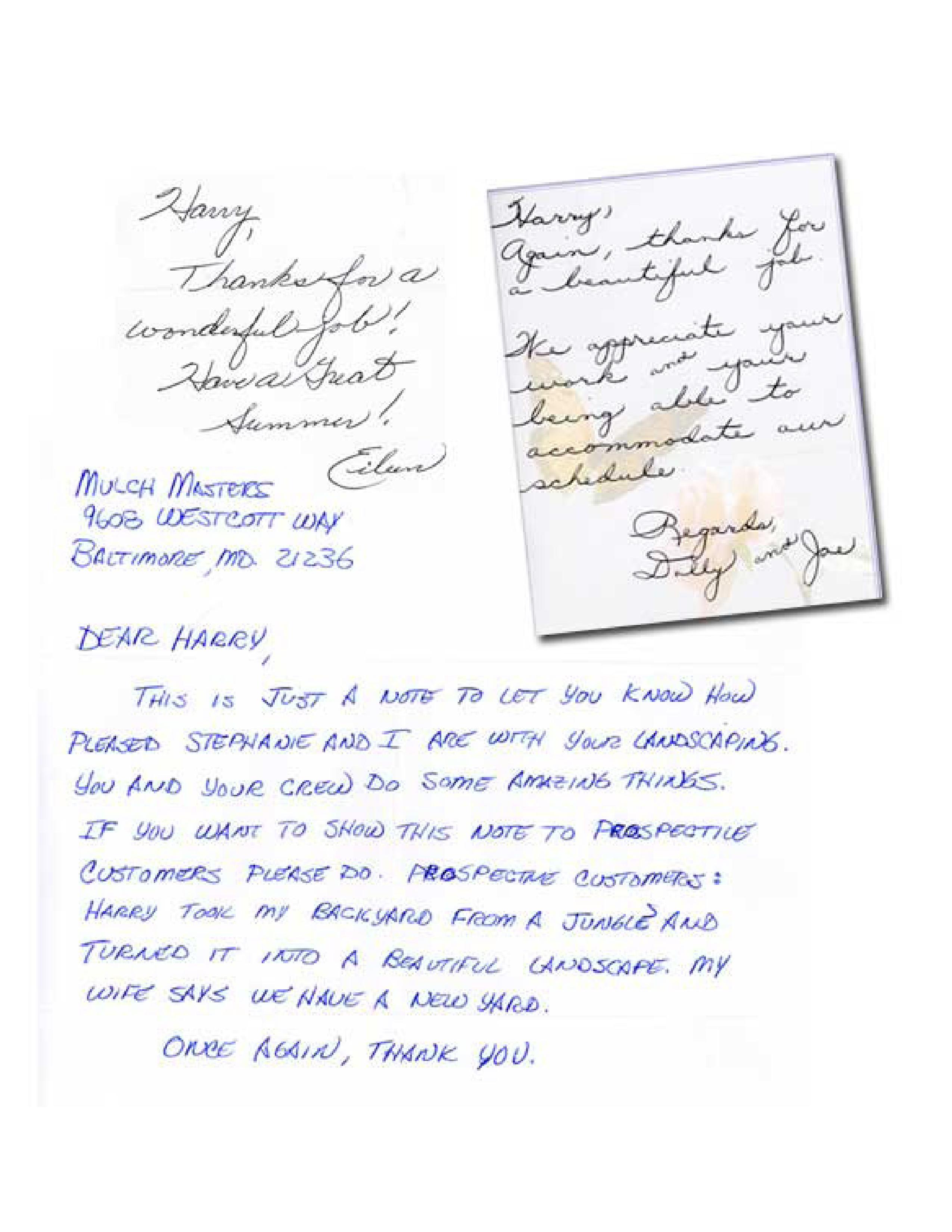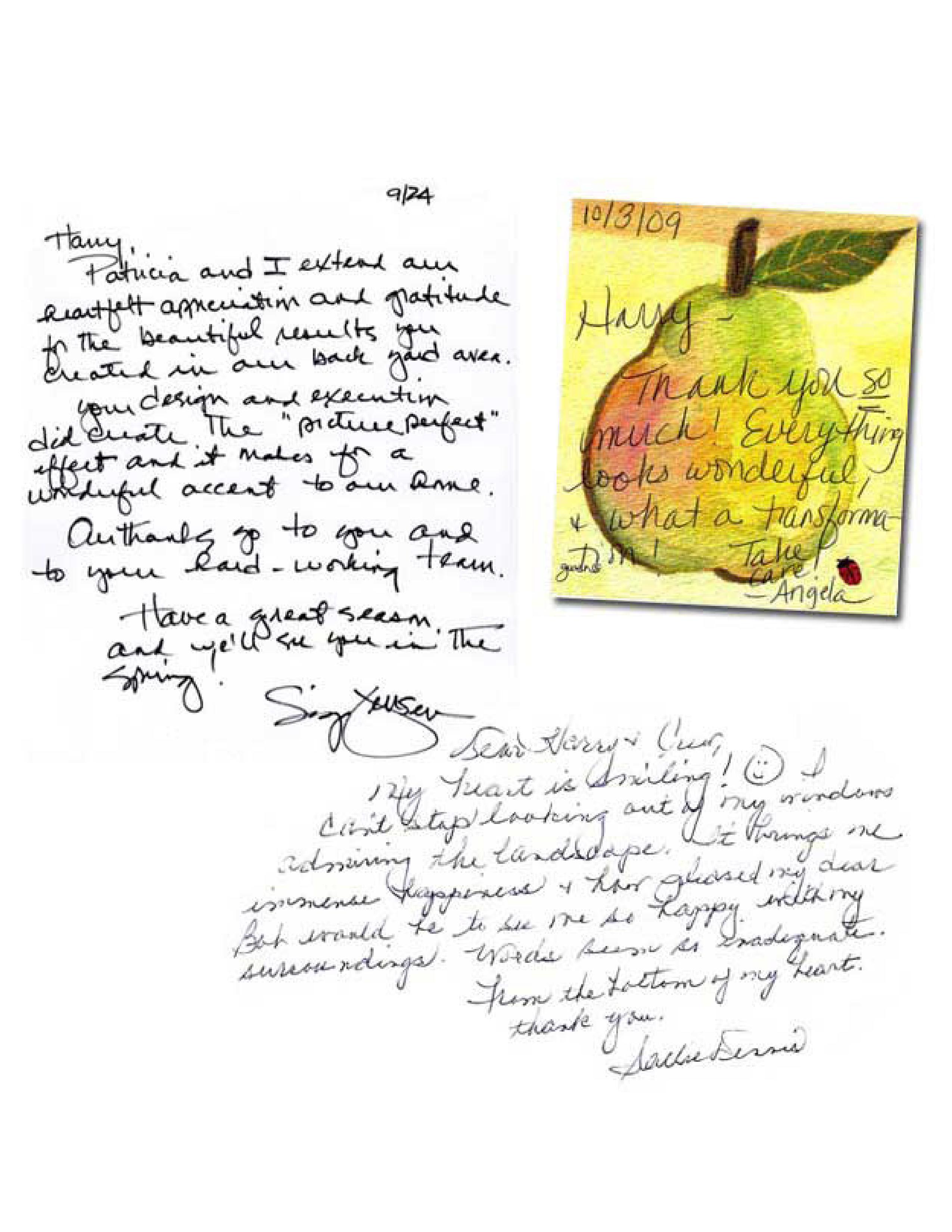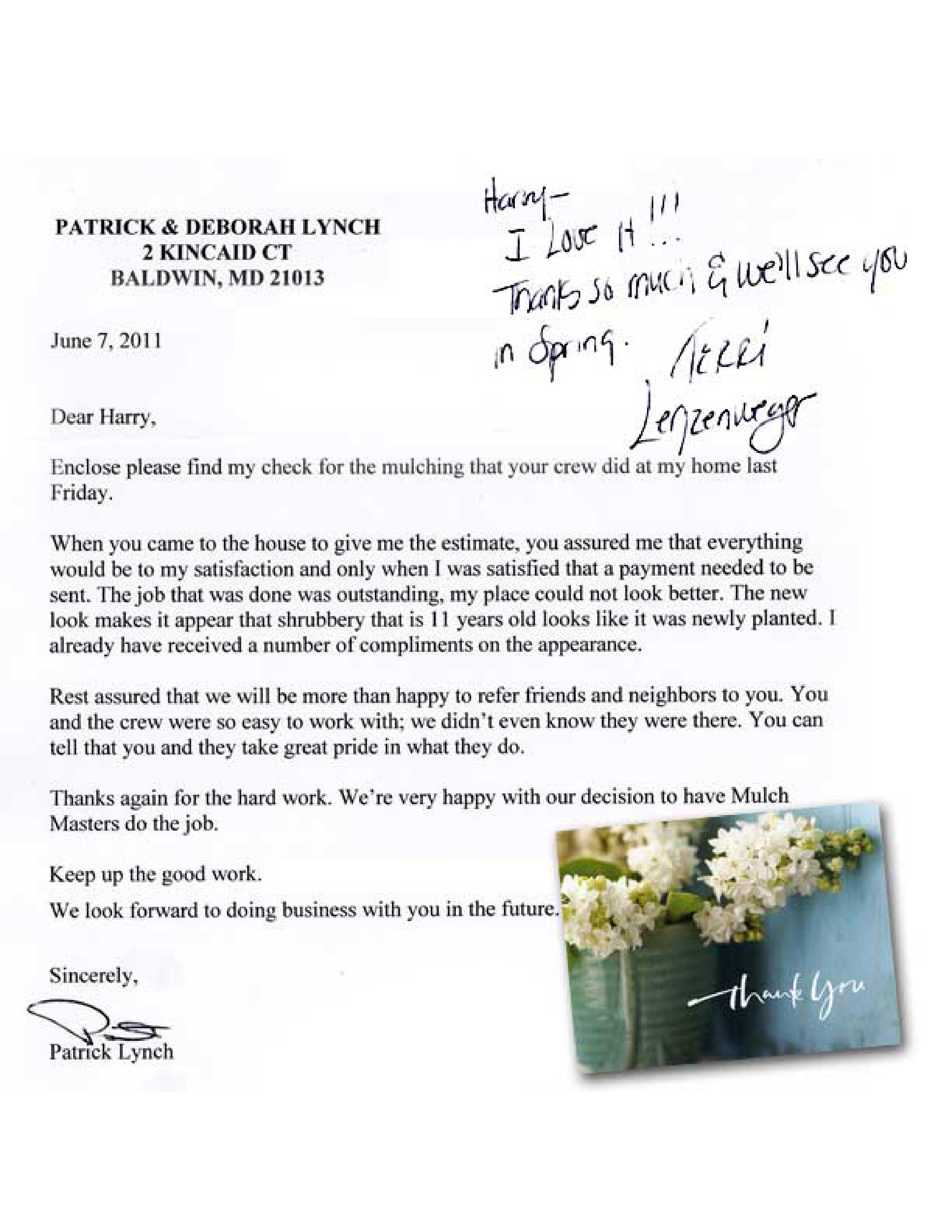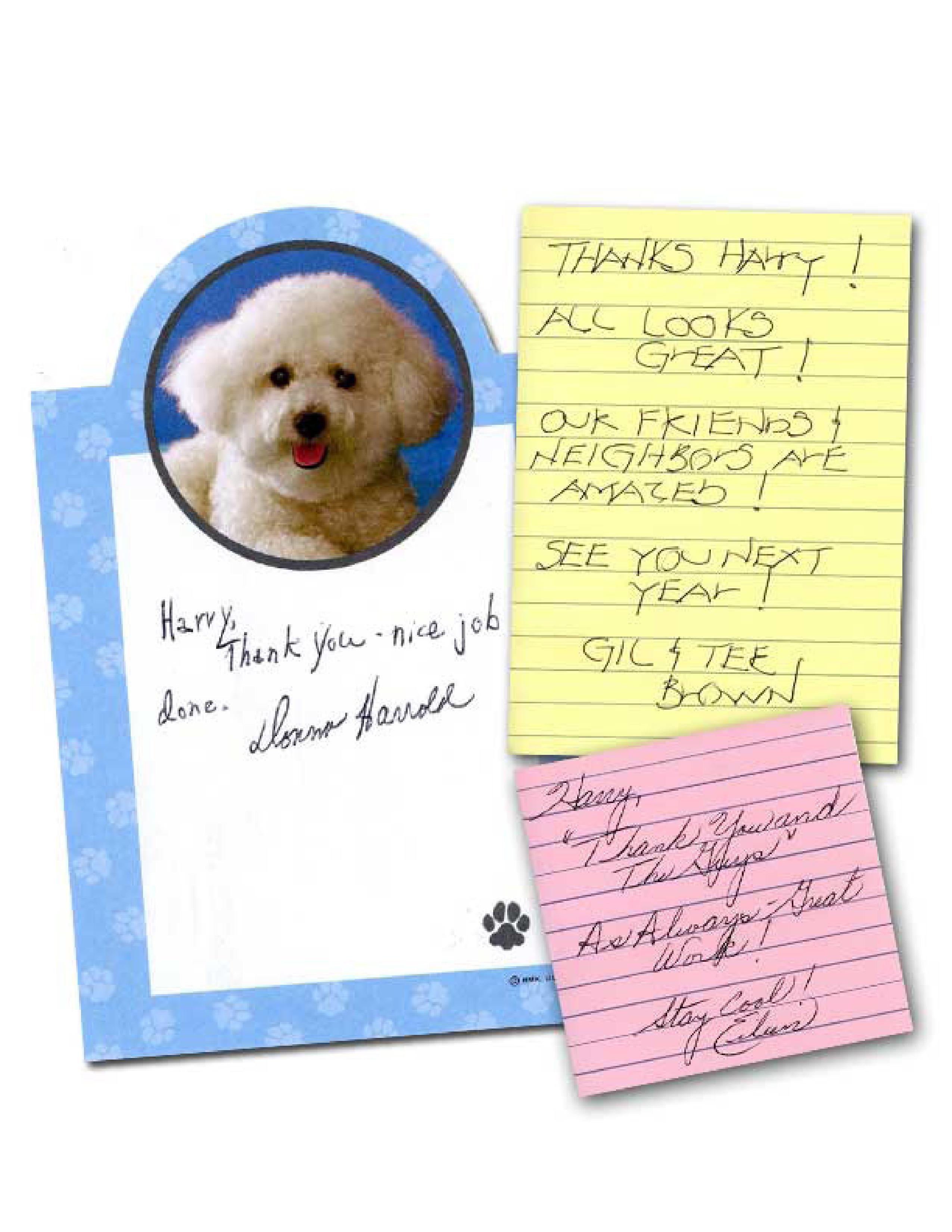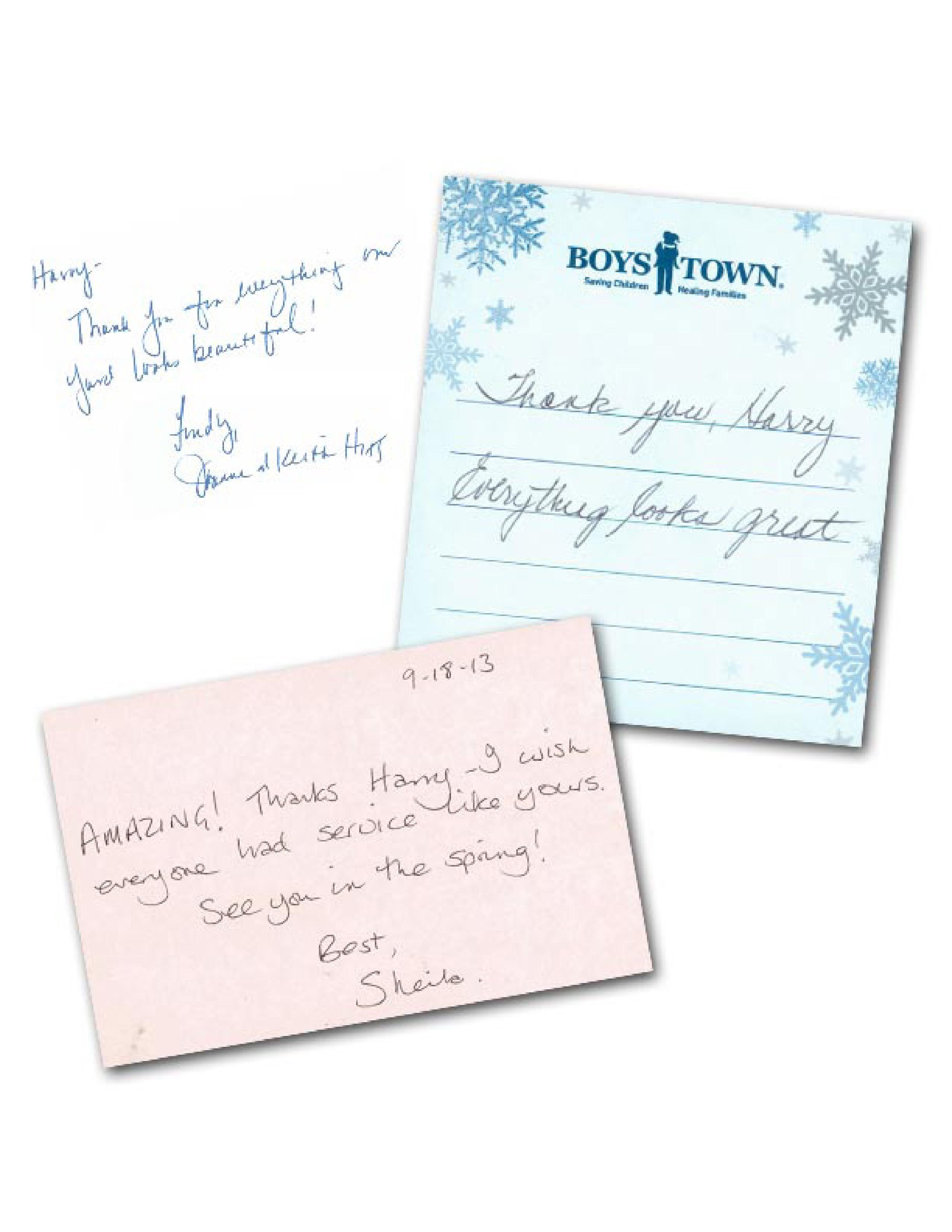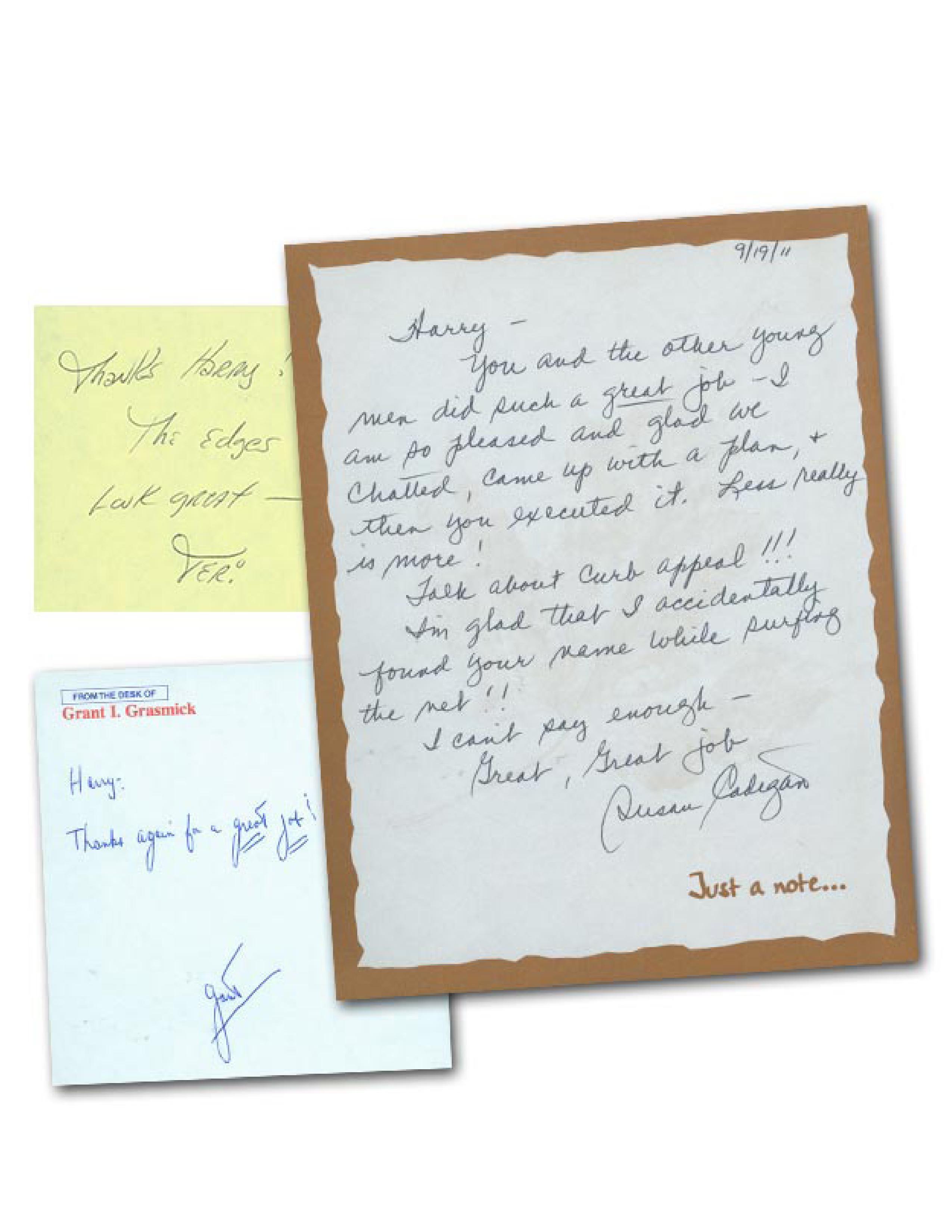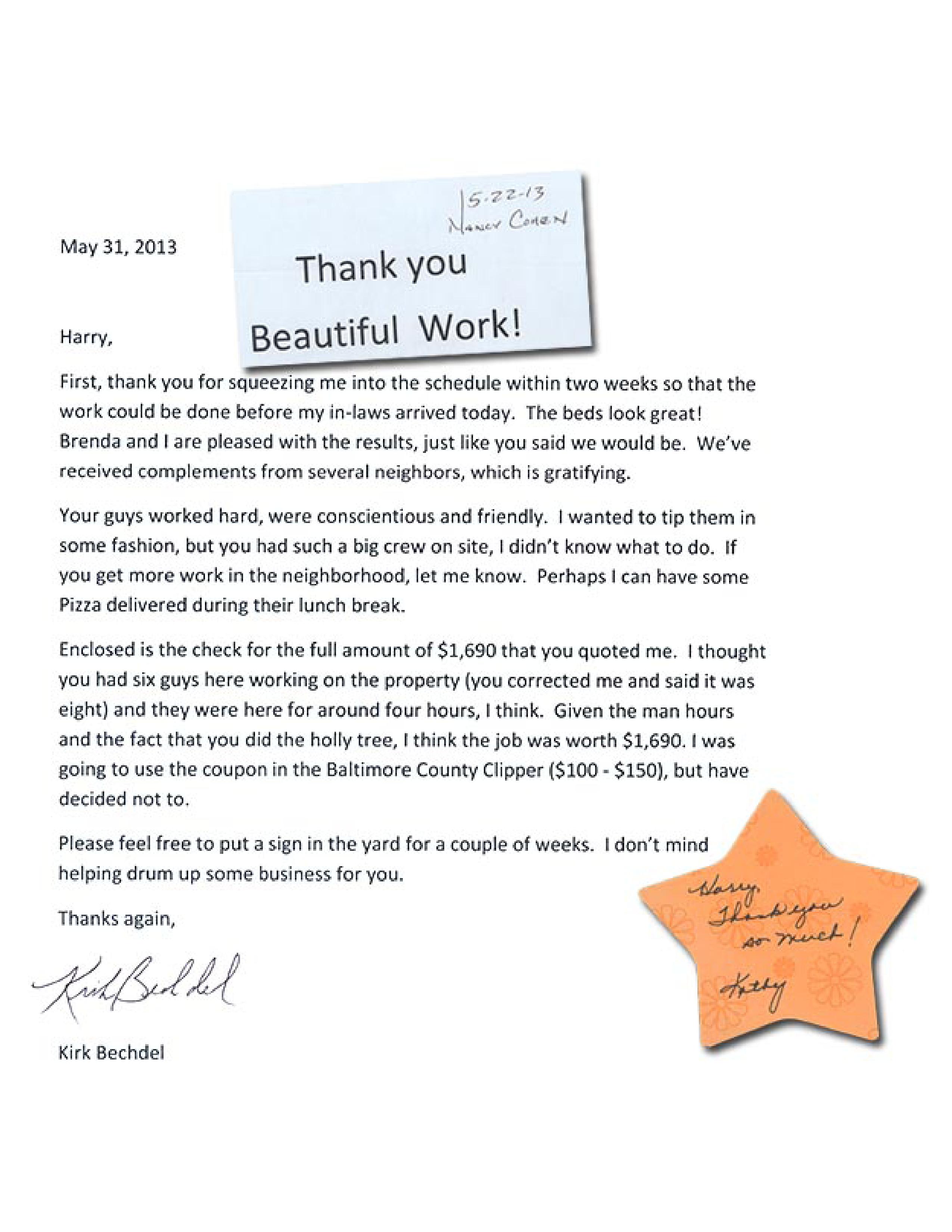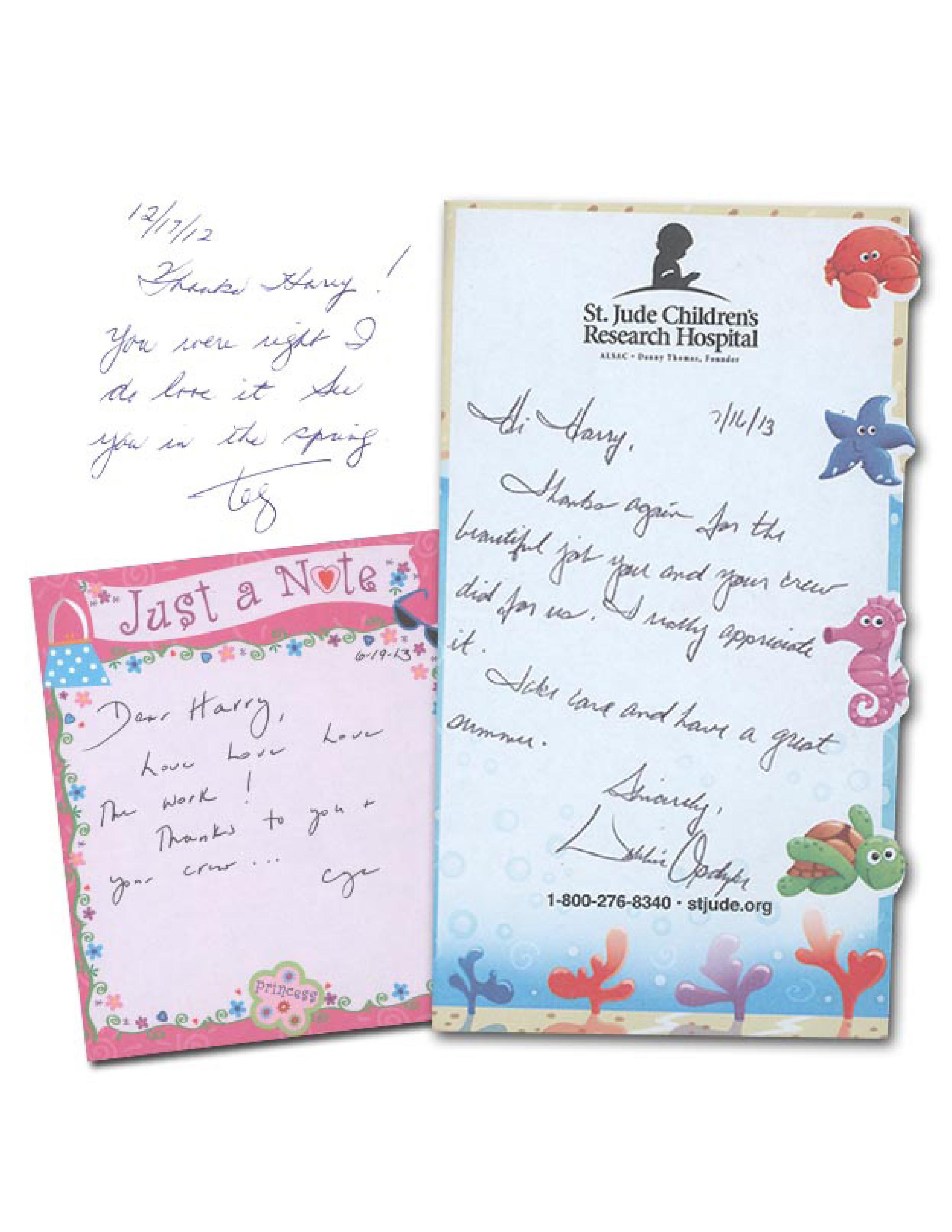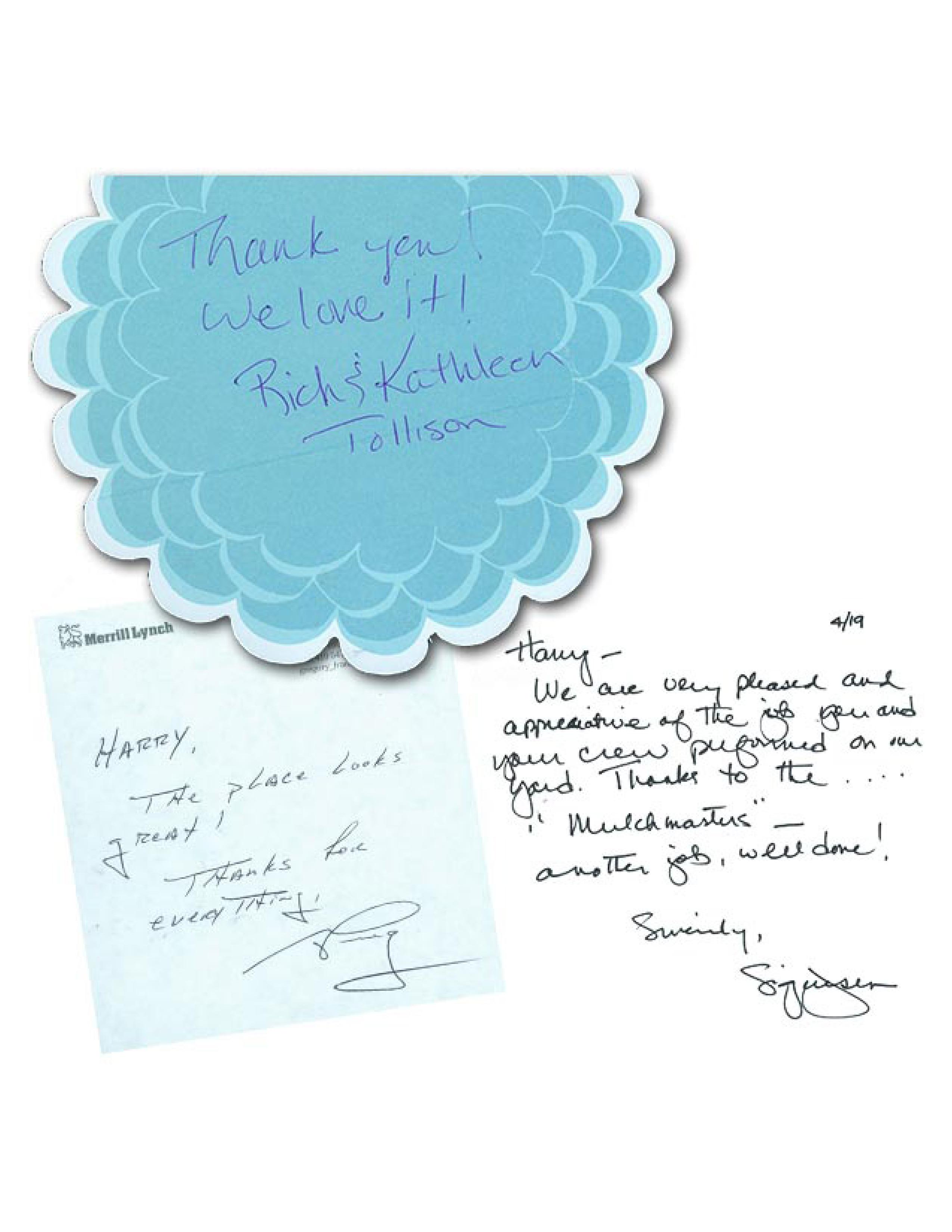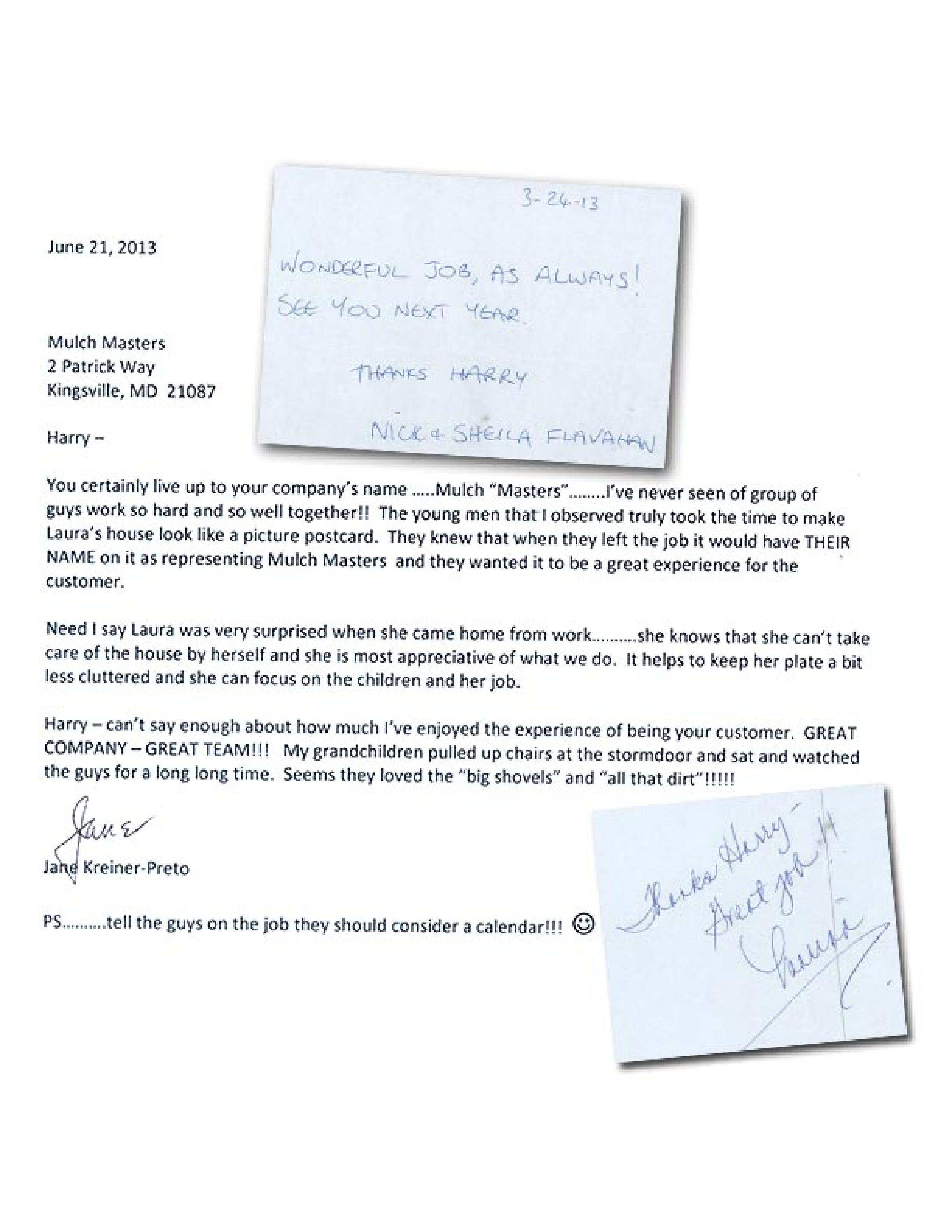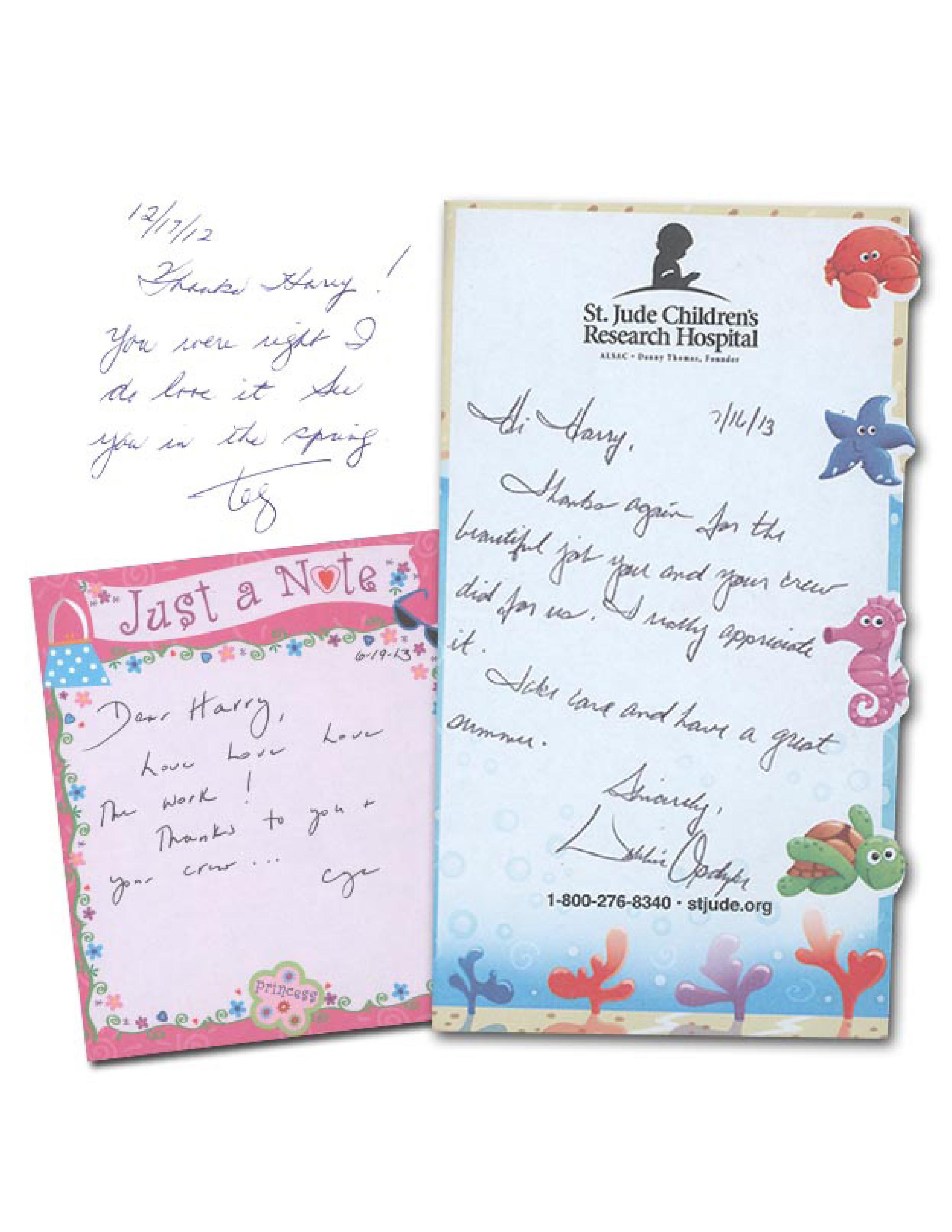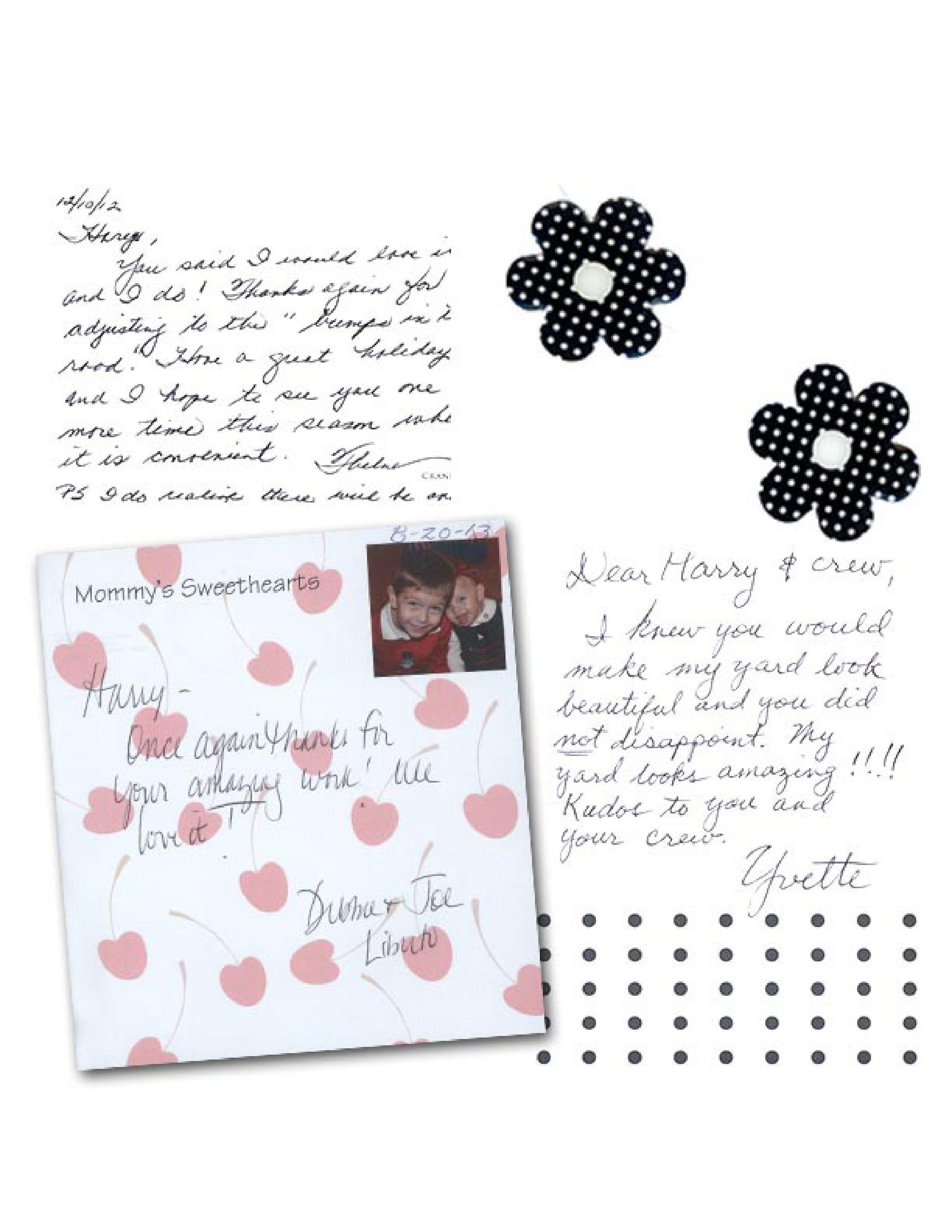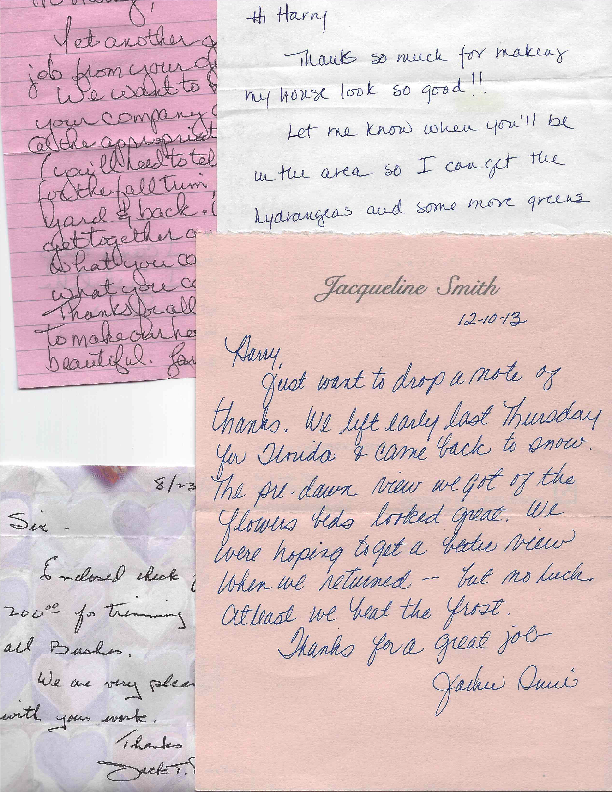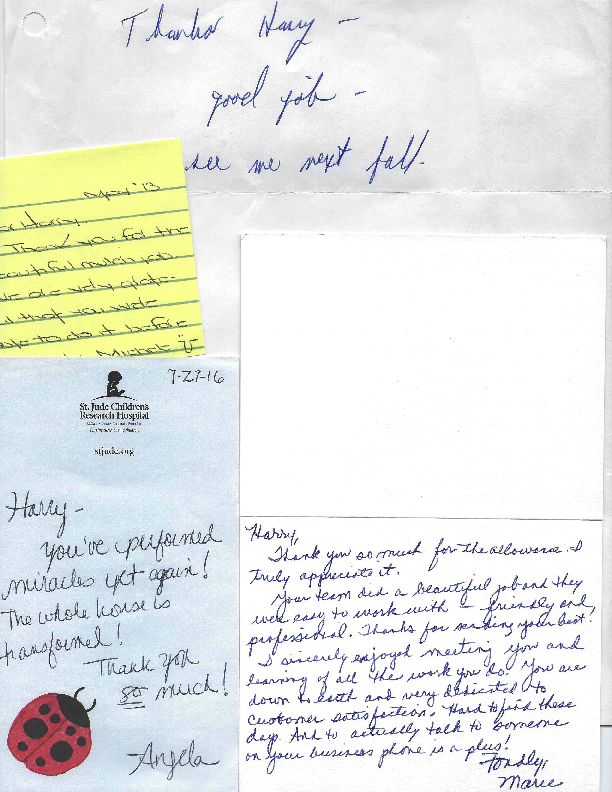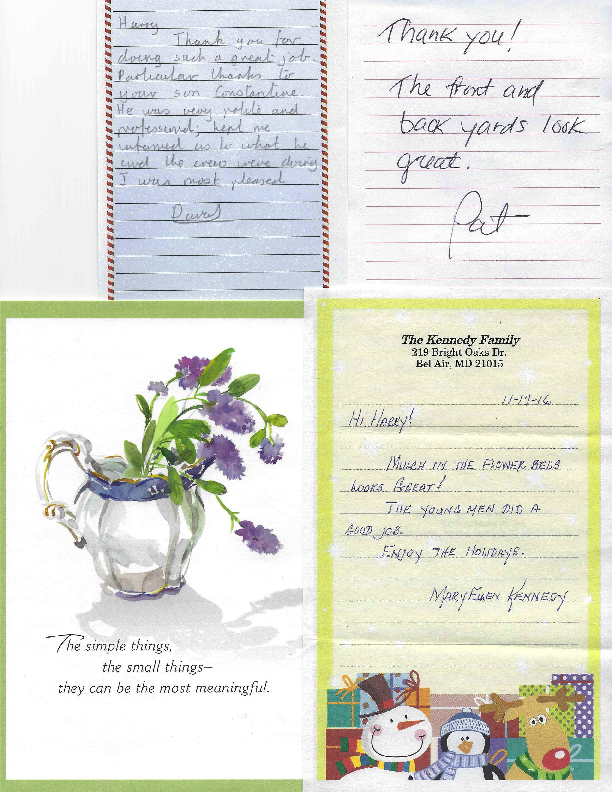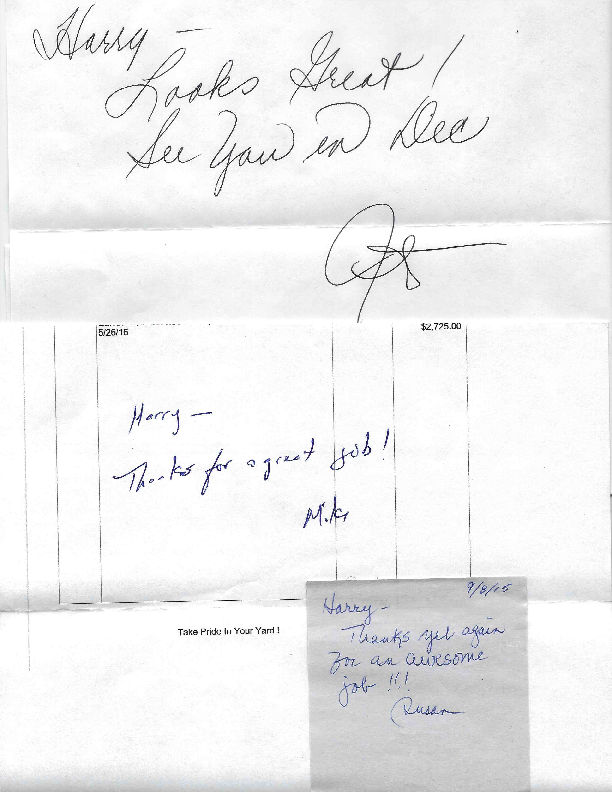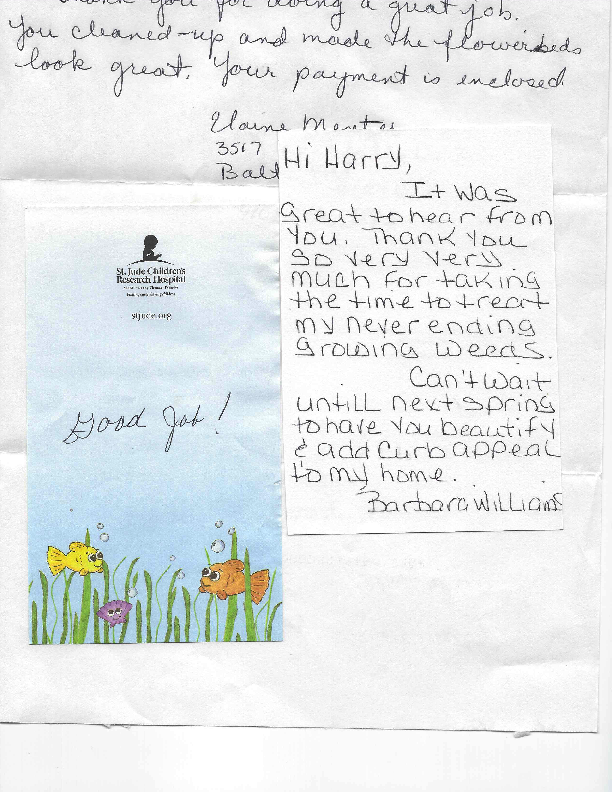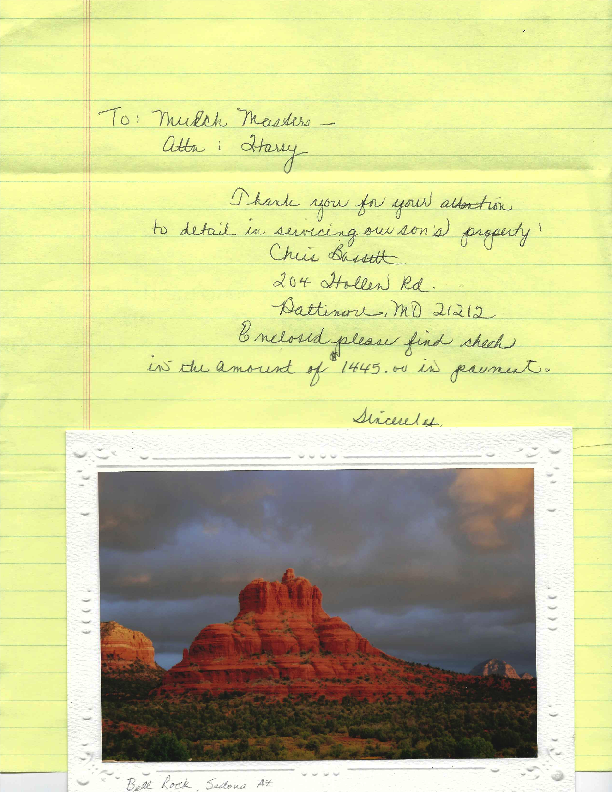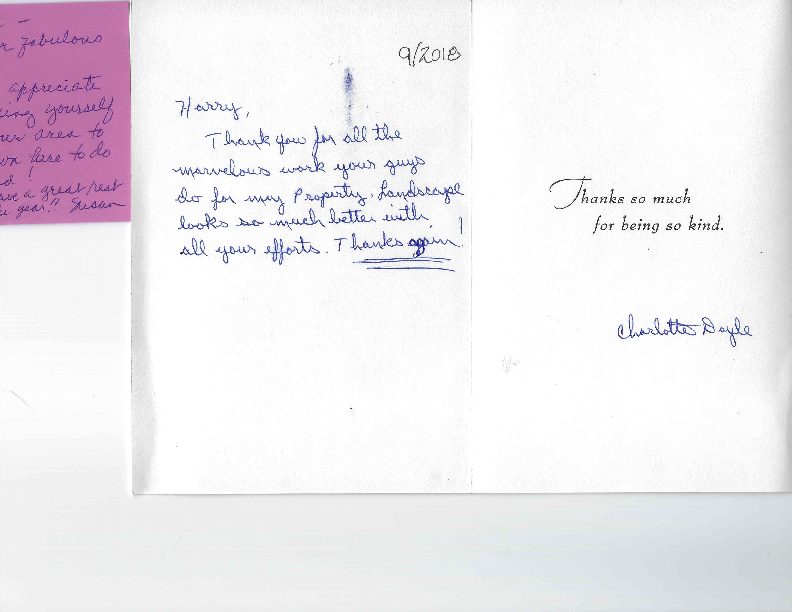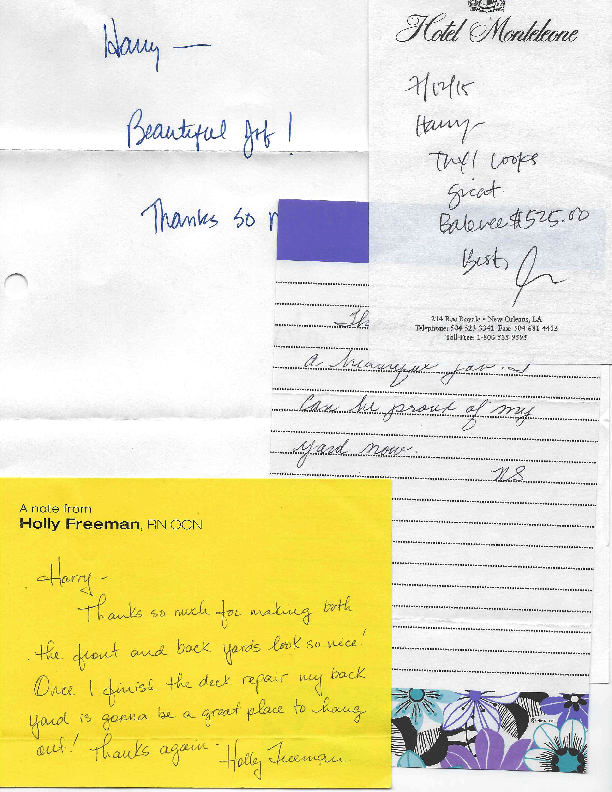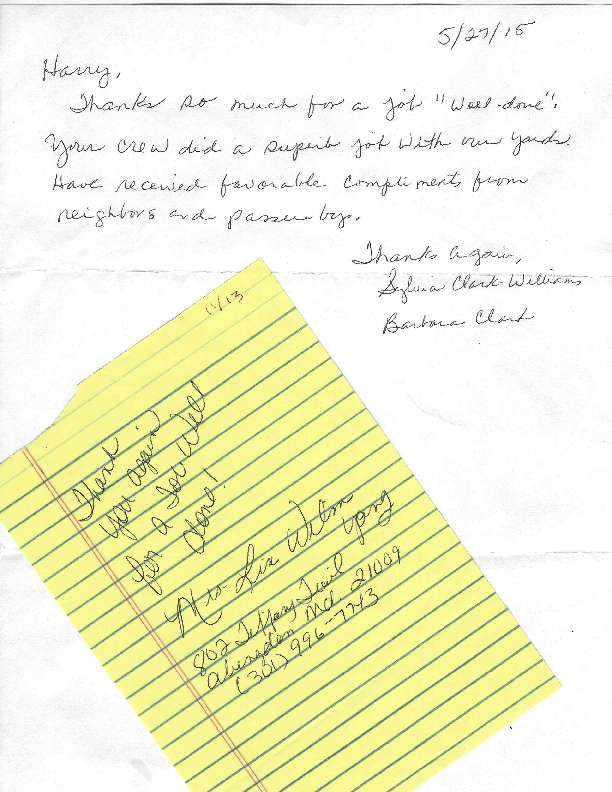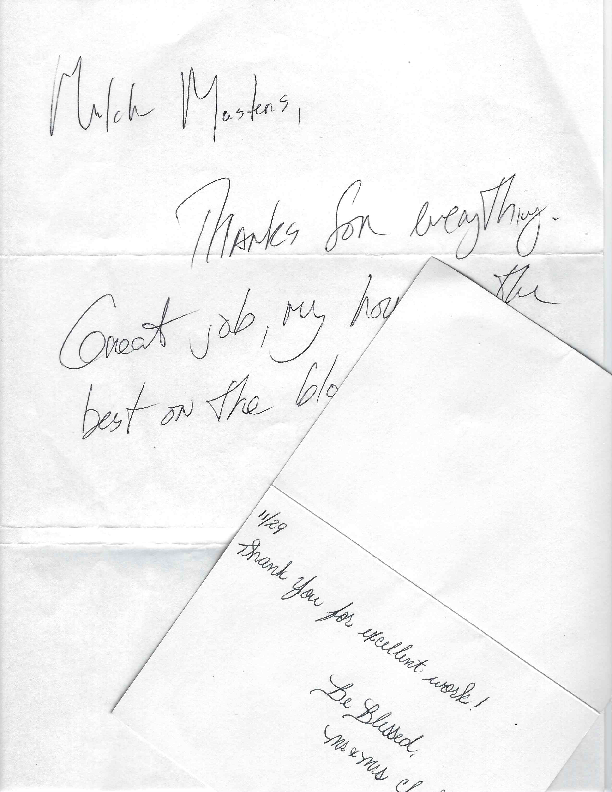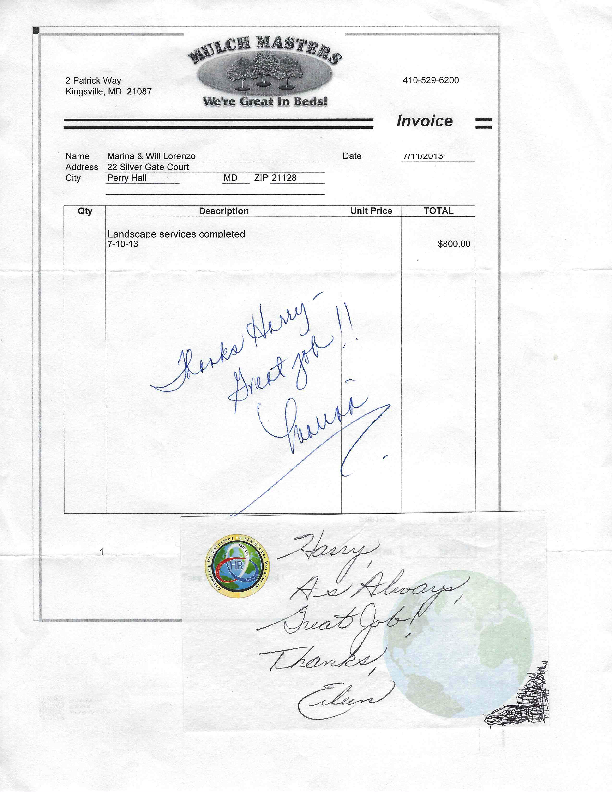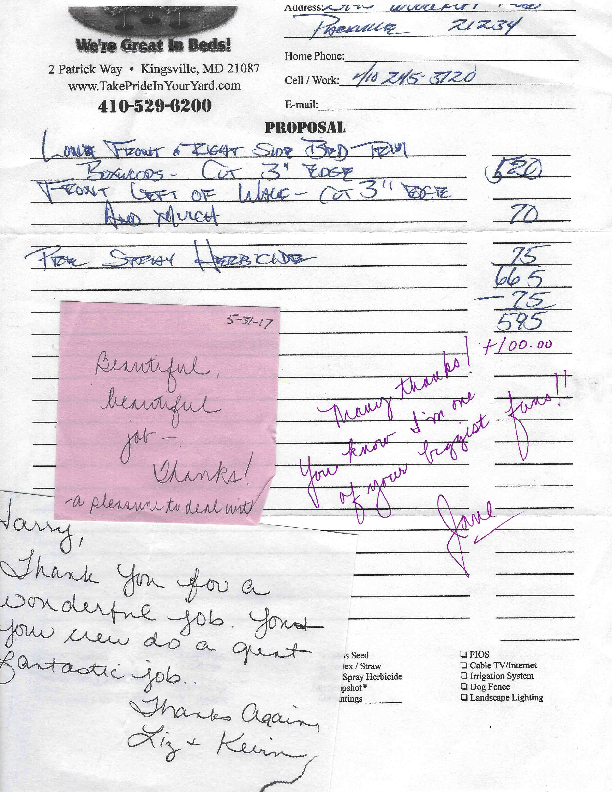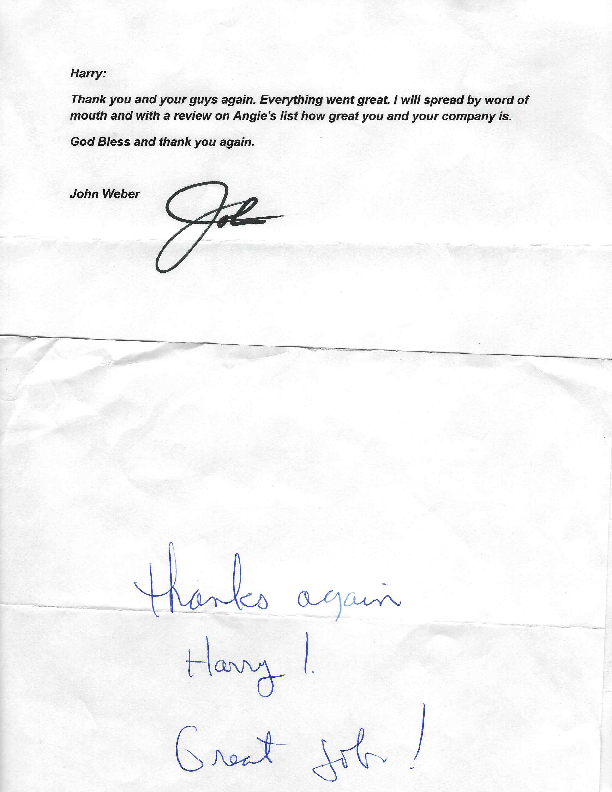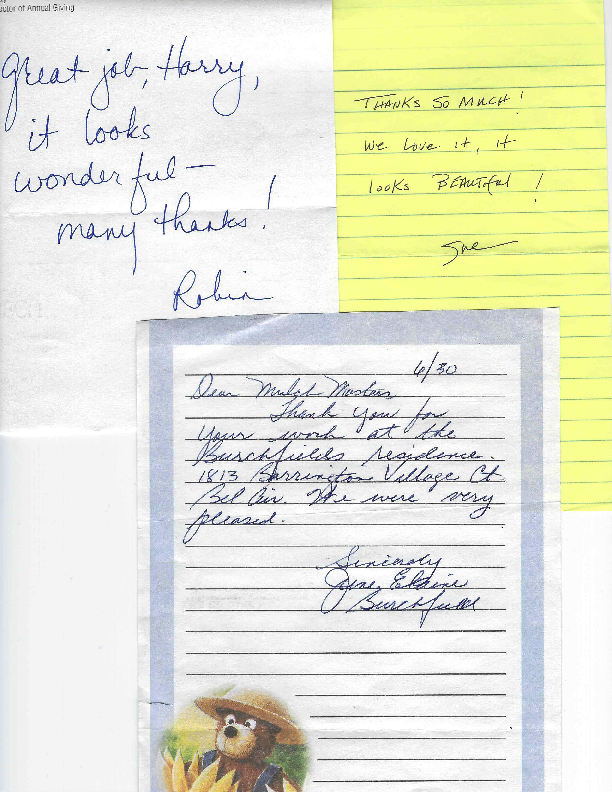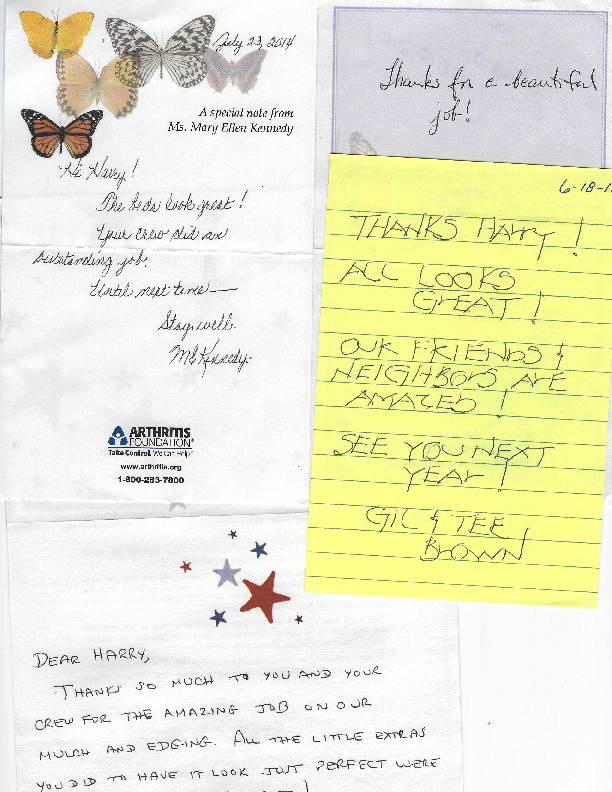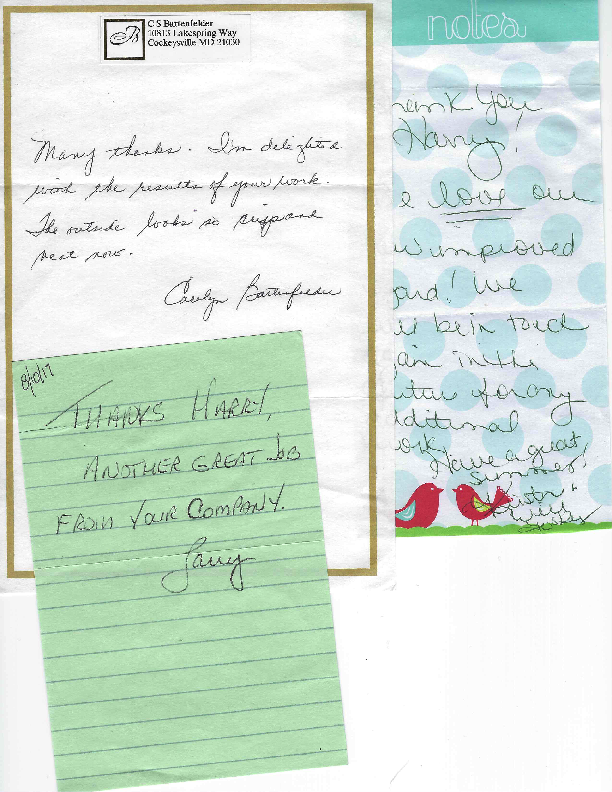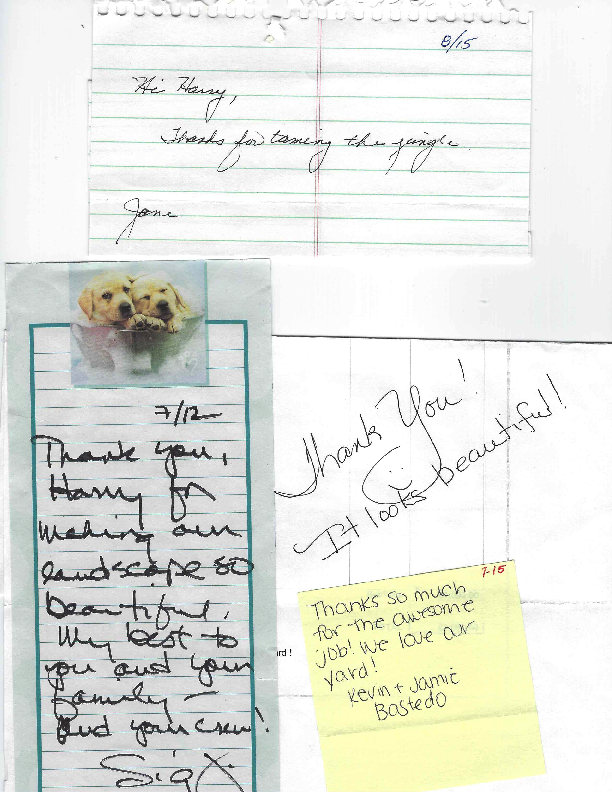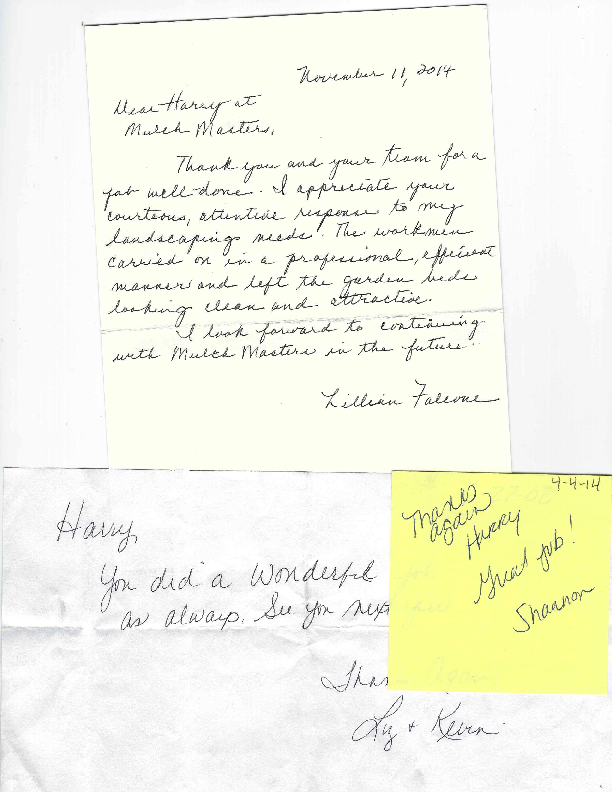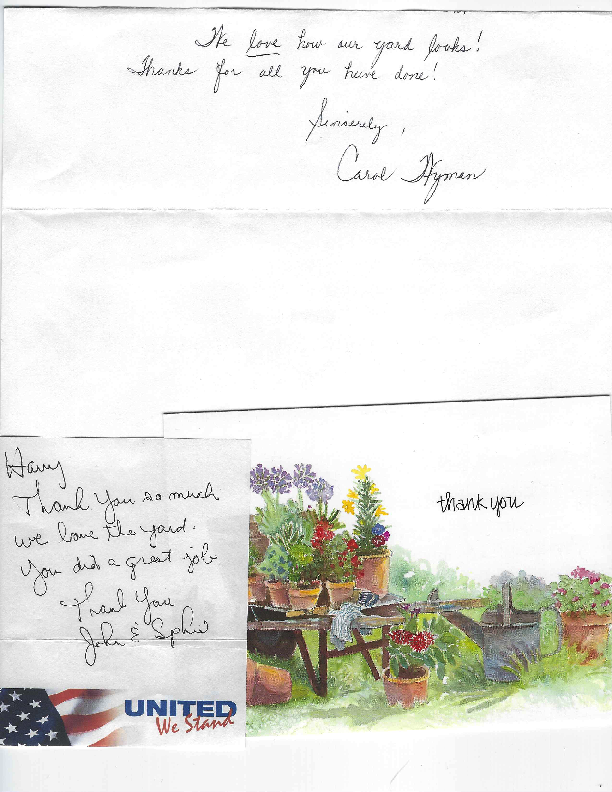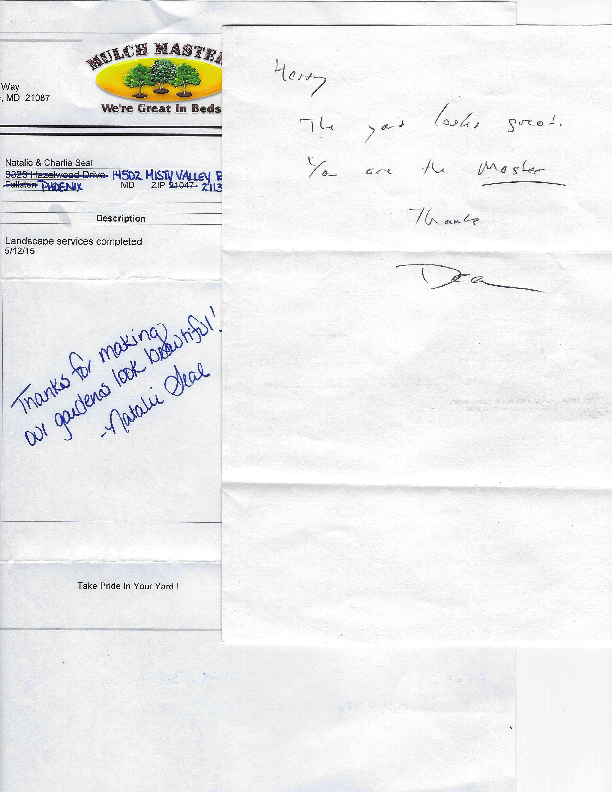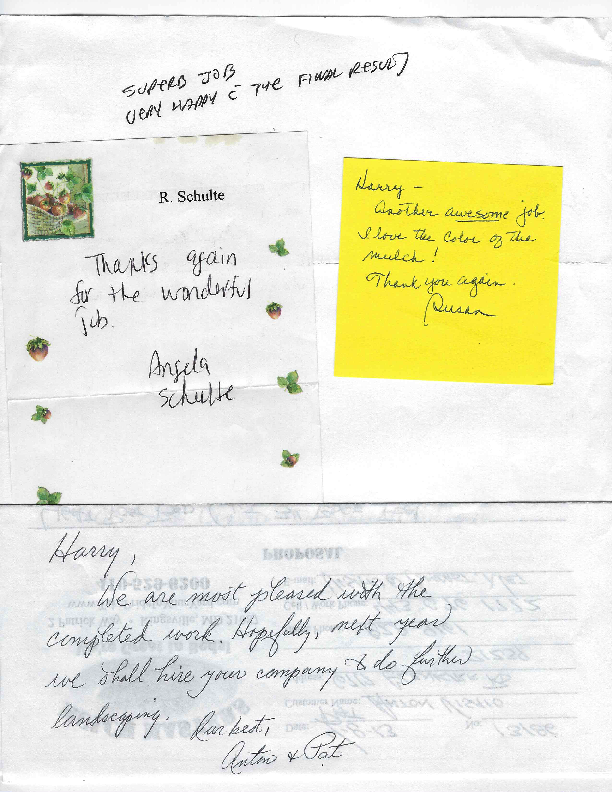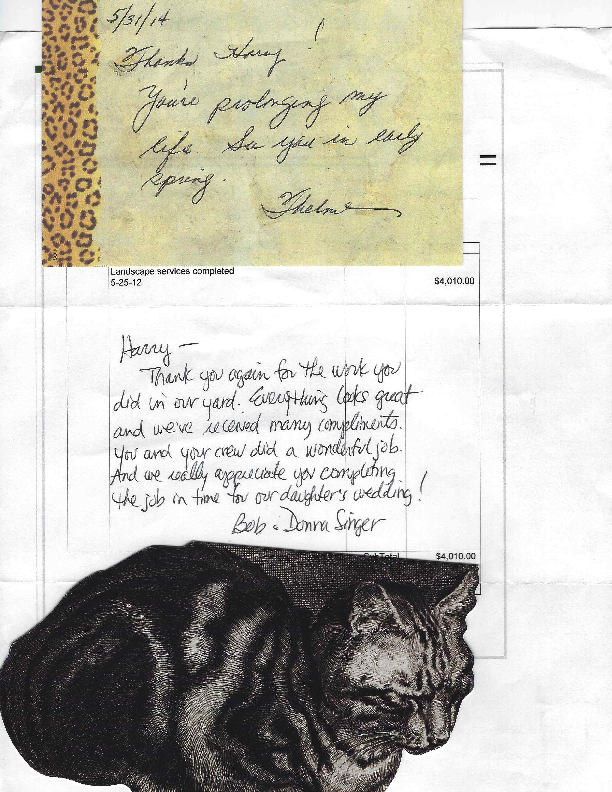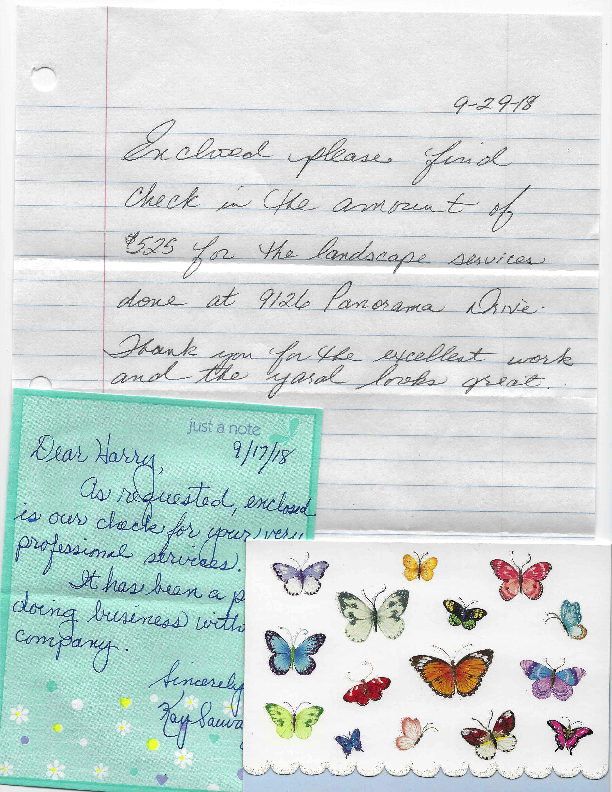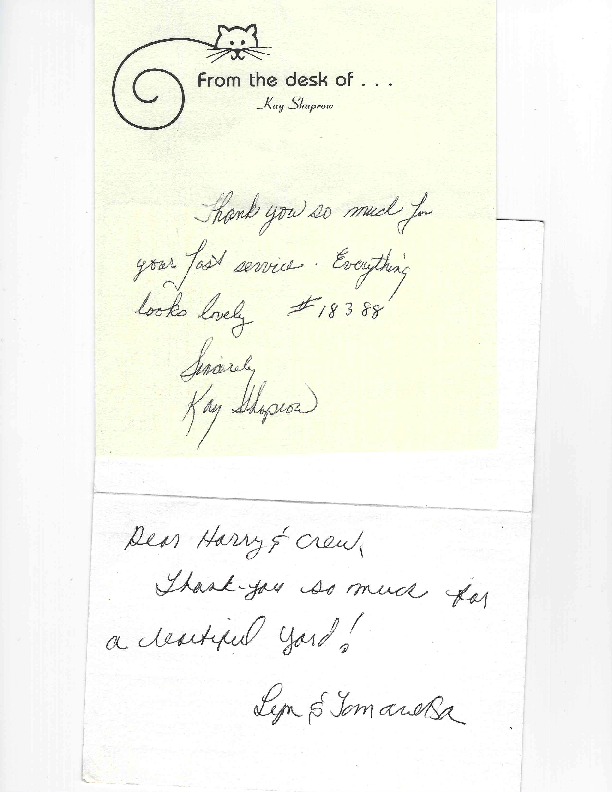 Great owner, great group of workers and my house looks amazing! Highly recommend!
Mulch masters is exceptional in every way. They are prompt for appointments and very thorough with their estimates. All of the employees are professional and courteous. They do all jobs with the same attention to detail whether it is a small job or a large one. We have used them for 2 years. I would never hesitate to recommend Mulch Masters to family and friends.
Wonderful from the start to finish. Nan, Harry, and the crew are the BEST! Mulch Masters goes above and beyond. Friendly, professional, honest, quality work, excellent price.
They did a fantastic job! Very happy with Mulch Masters!
Was very pleased with the work. The workers were friendly and courteous. Work was completed quickly and efficiently. It looks great. Would definitely use them again.
Amazing quality of work! My Yard always looks professionally done when they are finished.
Exceptional company! Extremely professional, proficient and friendly from beginning to end . . . From scheduling with Nan, to walkthroughs and weed control with Harry, to the arrival and completion by the crew! The detailed level of work that they do in spreading and rounding corners in the beds has us the envy of our neighborhood! We started with Mulch Masters last fall and had them back for spring cleanup because they do amazing work!
We used Mulch Masters about two years ago and were very happy with the work. So, we contacted them again when we decided to freshen up the landscaping. Harry worked around our schedules and met us on a Saturday to discuss the job. I would say he spent nearly an hour with us going over what we wanted done and making recommendations for some new shrubs and bushes. The crew came yesterday and laid fresh mulch, cut clean edges around some of our beds, trimmed the existing bushes, replaced some shrubs/bushes with new ones, installed new gutter extensions, cut low hanging branches on a tree, and put down grass seed in a small area. The crew did a good job cleaning up, and the landscaping looks great. We'll use Much Masters again in the future.
The owner Harry came out to give me a bid for the spring clean up of our landscaping on Tuesday. He showed up on time and is very friendly and professional. We discussed what I wanted to accomplish and he suggested some additional work that I had not considered. He gave me a copy of the contract, the price was fair so we shook hands on the deal. Harry immediately did some of the preliminary work on the beds. Thursday afternoon the crew arrived, all the men were friendly and polite. I didn't realize how much attention the beds needed. They are beautiful now. The crew did an excellent job! They cleaned up the yard at the end of the job and even ran the trimmer over the small patch of grass that is the first to grow at the end of winter. I highly recommend them. We are repeat customers, when I find a great company to deal with I stick with them.
Highly recommend, great service and follow up
Harry and his team did a fantastic job! My yard looks completely different and I am now proud to have anyone walk up to my house. I highly recommend this company to anyone looking for yard work. Thank you Mulch Masters.
Professional, trustworthy, and accommodating.
We were left in a tough spot because another company didn't show as scheduled. I called Mulch Masters and Harry showed up then next day to give us an estimate. On Friday his crew was here to do the work. Thank you Harry for making our gardens looking great for our family gathering the next day! We will be using them again!
I am glad that I followed their suggestions. They all are nice and well experienced. so satisfied with the work that was done by Much Masters.
Hire them, and forget it.
Now enjoy your backyard.
Harry and his team were very professional, and their work is absolutely fantastic. I have not had a better experience with a landscaper. EXCELLENT!
Outstanding experience with Mulch Masters. We had a rather large project in our backyard. A lot of digging, removing and re-mulching. Harry was very communicative during the rainy season, keeping us updated on what the plan was and when they would be able to make it back. Once it was finally dry, they sent a large enough crew to basically complete the job in one day. It looks fantastic and we are very happy we made the decision to hire Mulch Masters.
My project (a front yard of a townhome) entailed weeding, aggressive trimming of landscape and mulch application. Within 24 hours of calling Nan, Mr. Harry promptly scheduled my initial appointment and within a week was at my property personally to apply herbicide. Within 10 days of the application, his crew arrived & consulted with me to make ensure the scope of my project was properly executed. After nearly three hours of hard work, the project exceeded my expectations! I have been doing this myself for nearly 15 years and it never looked this good……..thank you Mr. Harry….I will be asking you to come back in the late winter to review my back yard. Thanks again!
I was very happy with the work that was done by Mulch Masters. They got rid of weeds that were taking over my yard when nothing else seemed to do the trick. My yard looks like a different place after Mulch Masters did their magic. They were also very friendly and easy to talk to. Highly recommend!!!
Wonderful! I have used them in the past and they do great work. Just beautiful!
Very well. The crew arrived on time and did all that we had contracted for.
Fabulous results with Mulch Masters. Harry was great, always followed up on every step. Their meticulous treating of weeds two weeks prior was key. Very professional job. Could not have been more pleased. Very detailed oriented. Pleasure to deal with. Would highly recommend. Will be using again for maintenance
We have used Mulch Masters for two years and their work is impeccable! Their crew is friendly and when finished, they clean up any areas they have touched. The finished work is beautiful and will have your neighbors complimenting the look.
The Mulch Masters team did a great job on our yard. We have used them 2x now and we are very pleased. Harry is a pleasure to work with and his crew is friendly and professional.
Harry and the Mulch Masters' team are the best! My yard is beautiful! My mulch is perfect! I love it! Thank you Harry and the entire team for another fantastic job!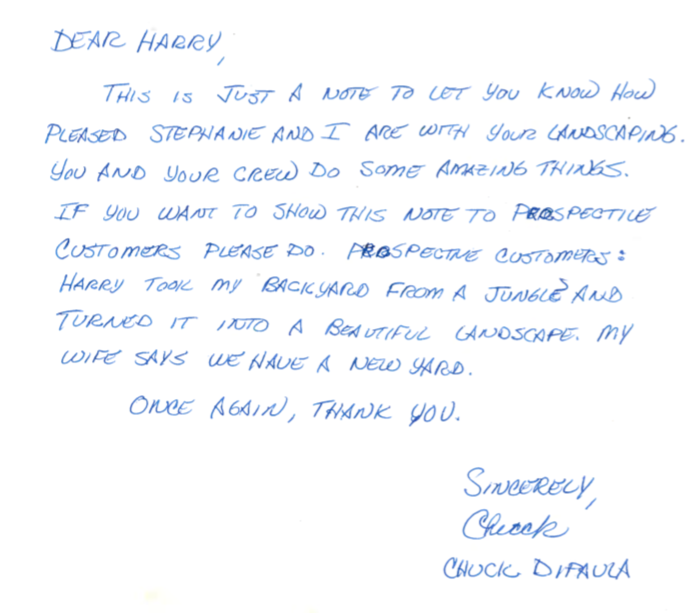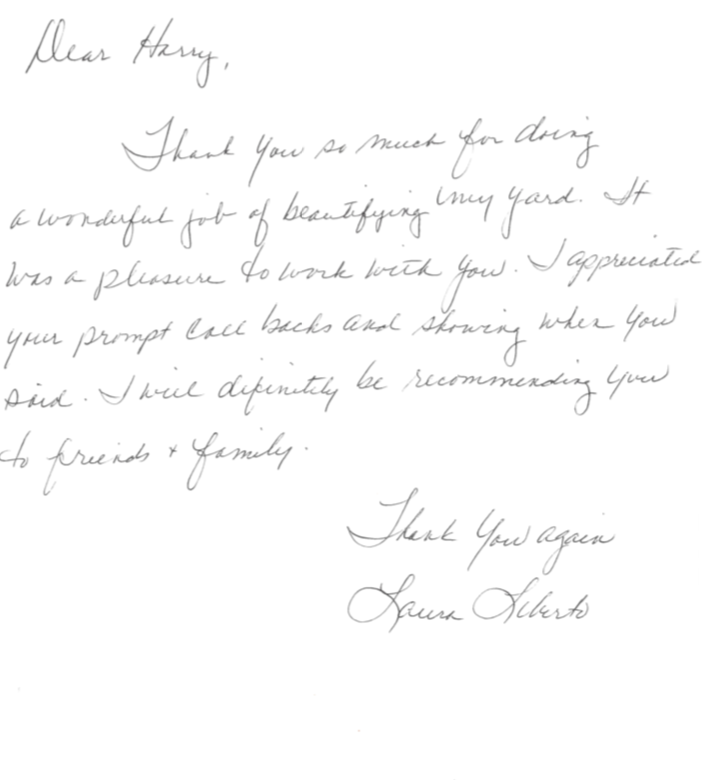 Harry's team did a wonderful job and went above and beyond by trimming our lirope and bushes, as well as laying a lot of mulch. Our property looks great.
Prompt, reliable and professional. I've been using Mulch Masters for the past four years for the upkeep of my small yard, and I have been very satisfied with their work.
This is the first time I am using Mulch Masters after neighbors recommended them. So pleased with their service and the desire to understand exactly what I was looking for.
Did an excellent job of mulching, edging, and adding rock to divert water in my flower garden. Got the job done quickly and were very professional.
I purchased a new home 2 years ago and had Mulch Masters come in to do an overhaul on my flower beds. They were amazing and the very best!
Does a wonderful job! Very professional and courteous. They make sure they go above and beyond to make the customer happy .
Loved the service. They were fantastic communicators and they went beyond my expectations with the value and quality of work. Will recommend to anyone.
We waited 15 years to do anything to our yard other than general maintenance. Harry and Nan are an absolute pleasure to deal with. They were personal as well as professional and made this process very easy for "non-outdoor people" the transformation was awesome and requires almost no regular maintenance. Pricing is very competitive and their work is fast and efficient. Don't hesitate to call them, you won't be disappointed. Thanks again
Very good to work with. Great job! Might be slightly more money but well worth it. Maybe not cheapest; simply the BEST!
A great experience from start to finish. I had called several other companies with no call back or reply. Then, thankfully, I found out about Mulch Masters and my deadline to have work completed was now short. They called back and came out within a couple days. Gave me a fair estimate and completed the work. The workers were on time, very polite and did an unbelievable job. The mulch and edging looks spectacular. Then, they gave a follow up call to see if everything was up to standard after the job was completed. Finally, a fair and honest company. I will be a repeat customer for sure.
Harry's team really worked on my home together. The job was a big job and it was 91* Temperature. They did a first-class job
I had the Mulch Masters over yesterday to work on the front beds and handle some stump removal in the back. My front yard was pretty atrocious prior to their arrival, but when my wife and I returned home (as they were wrapping up), our jaws literally dropped. We came home to a perfectly excavated edge, an attractive and creatively pruned Japanese split-leaf maple, beautifully trimmed shrubs, and a thick, even, consistent layer of mulch. A couple of my neighbors even texted me that day to tell me how impressive the work was. To go further, Harry and his team are incredibly friendly, knowledgeable, and exhibit the absolute highest levels of professionalism. If you want the very best possible result for your dollar, choosing Mulch Masters is a no-brainer.
Excellent local business!!! Used Mulch Masters twice now and intend to use them again in the future. The crew is knowledgeable, professional, friendly and easy to work with. They artfully designed and sculpted multiple flowers beds and always go above and beyond the requirements to ensure that we are satisfied. We highly recommend them!
June 2018 UPDATE: Once again Mulch Masters did an excellent job on our yard! The mulch is top quality as is the hard work that went in to making our yard look fabulous! Our thanks to Harry and his top notch crew! We will be loyal customers for a long time!
Larry & Melissa G.
Great job for year #3! Work is neat and tidy and the mulch keeps well for a whole year.
Mulch Masters are perfectionist, they go above and beyond any other company. For many years Mulch Masters has provided excellent service to our extensive property. Our yard is truly beautiful thanks to the care of this company!
Being a business owner myself; I can be somewhat hard to please when it comes to service. However, my service interactions with the Mulch Master Team and management group has been a breeze to work with on our home lawn projects. I use the Mulch Master services several times per year and the consistency of the service and level of professionalism exceeds my expectations time and time again. I would recommend Mulch Masters to any residential or commercial property whom requires attention to detail.
Go with Mulch Masters! You will not be disappointed. Extremely professional contractor. Harry and his crew went above and beyond to make sure that our expectations were met. Communication was excellent. The job was started and finished as promised. The price was extremely fair. Mulch Masters does way more than mulch. We had dozens of overgrown bushes removed from our pool area. The beds were then cleaned, replanted, and covered with stone. We also had an old playground area cleaned out, graded with new topsoil, and seeded. So glad we chose this company for our landscaping needs!
WOW!!! Harry's crew did an amazing job on our front and back yards. Everything we asked to be done was over-the-top. All of our shrubs needed "haircuts", 3″ trenches were dug and heavily mulched, and the trenches were artfully swooped and rounded for maximum curb appeal. My husband and I are thrilled. Whether you are selling your house or just want a spruce-up, you can't go wrong with Mutch Masters.
Mulch Masters did an awesome job today. I had 20 years of overgrown bushes and trees and was in dire need of professional help. The masters came in an conquered the jungle. I am so pleased with the job. Very professional work crew. Great representation of the owner. Truly cared about doing a good job and it shows in their completed work ! I would highly recommend the company to anyone !! Top notch !!
What an awesome company to work with! I've been using Much Master's for over 6 years and trust them with optimizing my homes exterior appearance. They meet with me both before and after every project to make sure all of my expectations were met. They provide recommendations based on their years of experience without being pushy or up-selling. Harry and his crew really care about their work and they take pride in making sure we are happy. Most importantly to me, they are honest and stand behind everything they do. I highly recommend Much Masters for any residential mulch project.
We were more than pleased with the job that Mulch Masters did for us. They were very flexible in working with our schedule and did a thorough job including clean up. We will definitely be using them again and their price was very reasonable.
They did a good job. Courteous and responsive, took the time to thoroughly discuss the
work with me before accepting the job.
This was the second time we hired Mulch Masters. The owners, Nan and Harry, are just terrific to work with. They are very accessible and have a good crew. I have not been able to tend to my garden as I have in the past. I am happy to turn over many of my gardening duties to this team. My gardens beds have never looked better.
It looks fantastic. I have landscaped during summer jobs and have basic experience with edging and laying mulch but I could never have made it look this good. The cost was about 4x more than just getting a bulk mulch delivery, but it was worth it. Harry is very responsive and his team is clearly detail oriented. Every inch is perfectly manicured.
Very well. The crew arrived on time and did all that we had contracted for.
Great. Price was good, they were punctual and the yard looked fantastic when they were
finished. Even blew any stray mulch off the sidewalks.
Wonderful! I have used them in the past and they do great work. Just beautiful!
Harry and his crew were a delight to work with and greatly enhanced the look of our yard. Harry wound up giving me several estimates because the work changed over time. We thought we could get it done in the spring but the tree trimmers, whom I hired before Harry, defaulted on the job, so the weeding and mulching was moved to the fall. We had a lot of work to do and it took 5 young men two full days to complete the job. I highly recommend Mulch Masters as they are very professional and easy to work with, finding a way to do all I want without nickel and dimming on everything. I will definitely be using them again.
It was terrific. They did a great job for me. They are definitely an A. I thought the price was
very fair for the work they did for me. They did the work exactly as scheduled. Very terrific. 
I highly recommend them to anyone who needs that type of work done.
Went well. They did excellent work
A+ for quality and integrity. This is the second time I've used Mulch Masters. Harry is very pleasant to work with and his team does amazing work! Seriously, it's like night and day when they leave. A quick note about their integrity: they ran out of straw before they could cover the entire area where they planted grass seed (about a 4×6 void). Rather than just spreading the existing straw thin to cover the void, they came out the next day to finish the job thoroughly. I can't tell you how much I appreciate that. I highly recommend Mulch Masters!
Professional, punctual and good workmanship. I would definitely hire them again !
They arrived on time and completed the work on schedule all the while keeping me
informed. Did a great job. Looks very good.
They arrived on time and completed the work on schedule all the while keeping me
informed. Did a great job. Looks very good.
I don't think you will find a company that can provide the quality of work they do. It was way
better than I thought it would turn out which is rare. I am very picky.
I like the professionalism and the time they took to do everything. It was well organized and they cleaned up afterwards. We had some paving stones that were in the yard and they moved all of that for me to the backyard. So overall, it was a really good experience. They did everything in half an hour. The way they did it, the owner came by first and told the job that needed to be done and a price and because my job was so small, he said when they are in the area, they'll call me ahead of time to say if it's okay to come over and that's what they did. So that's what they did, they called and an hour they called, they showed up with 2 trucks and about 6 guys. Because they were in the area doing other things, that's what he meant and said they can knock it down in no time and they did.
Excellent, more than met my expectation. The crew was on time, professional, and worked continuously for the entire time. They did the best clean-up of any contractors I've used in the past. Harry also pre-treated the area with a weed and grass eliminator to ensure the mulched area will retain its beauty. I' not eloquent enough to do true justice to this company. Strongly recommend them for another Angies Service Award.
These guys don't play around. Sent a large crew and knocked it out in a few hours. Cleaned
up nice and everything looks great. Will hire again
The crew supervisor introduced himself and his men, and confirmed the work order. They then proceeded to work and when done they asked me to come out & inspect the job to see if it met my satisfaction. Its rare today but the young men were friendly and courteous, i was very impressed. the work was impeccable, i couldn't find anything wrong with it. I would use this company again without a doubt.
The owner came to the house in advance to give an estimate, which was adhered to. He explained everything that he would do and why, without being condescending. He did the work during the day, texting if we were not there to let us know what had been done. He left everything clean and even came back an extra time at no charge to put an additional treatment on the weeds. He was very professional in all of his dealings with me and offered only what was necessary, so no up-charges. I will use Mulch Masters again.
Communication was OK and they are not the cheapest, but I believe you do get what you
pay for.  I would be surprised if you find anyone who can do a cleaner and
more professional job.  There work is immaculate.
The owner came to the house in advance to give an estimate, which was adhered to. He explained everything that he would do and why, without being condescending. He did the work during the day, texting if we were not there to let us know what had been done. He left everything clean and even came back an extra time at no charge to put an additional treatment on the weeds. He was very professional in all of his dealings with me and offered only what was necessary, so no up-charges. I will use Mulch Masters again.
The whole process, beginning from estimate to completion, was remarkably well organized and executed. Everyone I had to deal with was very polite and professional. The crew arrived on time, well prepared, and got right to work. The team leader knew exactly what to do and was right there to coordinate and keep work on track. The beds came out stunning; it's a head turner for the passerbys. Thank you for the job well done!
While living in a society where things are exceedingly below <br /> expectations, Mulch Masters defy the odds and will make the word PERFECTION return to your vocabulary. Harry and his company are amazing. It was such a pleasure working with them. They are quality people. The passion <br /> they have for their business is very evident. Please don't hesitate hiring Mulch Masters. You will be more than thrilled. Love my Mulch.. Thanks so much Harry and Crew you made me so very happy 
Harry, the owner does a good job communicating and providing feedback.  I only asked for 1 other quote, so I can't comment on their pricing.  But, they met/exceeded my expectations (which are HIGH). Our yard looks great and will continue to use them as needed. 
This is my SECOND time using this company. This time the overgrowth from the trees hanging over the back fence not only made the property unsightly but also made it impossible to mow close to the back fence without getting assaulted by tree limbs and branches. Harry accommodated my time schedule and sent three of his workers to my home. They were prompt, professional, polite and just amazing. Their work was done quickly and the quality of their work was more than pleasing. I don't think the property looked this good in the 25 years I have lived here. I will most definitely use Mulch Masters again and would recommend them to anyone needing landscaping or tree work done.
Excellent. On time and completed work and more for a much improved look to our front,side
and back of house. Recommend Harry and Mulch Masters highly.
He made a point to have the job done in time for a Memorial Day party I was having. Went out of his way to make that happen.  It was a sudden problem due to weather and I told him it wasn't a big deal but he went above and beyond to help me get this project done in time.
I called this provider on a weekend and left a phone message requesting an estimate for the work that I needed done. I was called back very promptly and the gentlemen went out to my home to look at the project. I was given an estimate over the phone which was very reasonable. The work was promptly done 11 days later (yesterday 11-13-2014). It looks amazing and I am VERY pleased. I will definitely use this provider again and would recommend him to everyone who needs landscaping work done.
Harry came out and walked the property with me. He was very detailed and gave me several recommendations including things that we could do ourselves. I'm very DIY oriented so I was a little skeptical at first but the work is amazing! They came out a week later and were done in about two hours. We like it so much that we have them coming out to door more work. We couldn't be more pleased with Mulch Masters!
I highly recommend this company! Harry, the owner, was very responsive as well as sensitive to the fact that I had a strict time constraint. He had his crew come out on the weekend to make sure he got our house done on time and it looks great! He did everything he said they would do, did it faster than he originally estimated, and was incredibly professional. His crew was equally punctual and professional. I would absolutely hire them again!
This project went great from start to finish! I am so glad that I found this company!!!!